BANGKOK, Thailand (CNN) -- Disgraced glam rocker Gary Glitter is on his way to London after spending three days failing to find a country that would let him in, British officials said.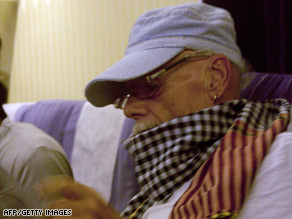 Gary Glitter on a flight from Ho Chi Minh City to Bangkok after his release from a Vietnamese prison, Tuesday.
The British Embassy in Bangkok told the UK Foreign Office that Glitter left Thailand early Friday morning.
Glitter, born Paul Gadd, served nearly three years in a Vietnam prison on a child molestation conviction and was released and deported Tuesday.
He was scheduled to switch flights in Bangkok en route to the UK.
But Glitter, 64, refused to board the connecting flight, and Thai immigration officials would not let him clear customs.
He remained confined in the transit lounge of Bangkok's international airport while officials tried to negotiate with him.

Watch how he was deported from Vietnam »
Eventually, he boarded a flight bound for Hong Kong on Wednesday. But once the plane arrived in Hong Kong, Glitter learned that he was not welcome there. He landed back in Thailand on Thursday afternoon.
Glitter was a rock institution during the 1970s, topping the British music charts multiple times.

Watch how he refused to board a flight »
He is best known for a stadium anthem song called "Rock and Roll (Part 2)." The song, with its one-word chorus, "Hey," is played at professional sporting events around the world.
In March 2006, he was convicted in Vietnam of sexually abusing two local girls when they were 9 and 11.
One children's advocate called for his return to London.
"It's important that Glitter comes back here and that he's carefully risk-assessed here in the UK, where we can do that," Zoe Hilton said. "It's important that we stop him traveling overseas again where he is a known risk of abusing children."
His trouble in Vietnam was foreshadowed by other tawdry acts. In 1999, he served four months in a UK prison after dozens of images of child pornography were found on his computer.
At the time, he expressed "deep regret" and then moved abroad, first to Cuba and then to Cambodia before surfacing in Vietnam, where he quickly landed himself back in legal hot water.
E-mail to a friend

All About Vietnam • United Kingdom • Cambodia • Thailand