(CNN) -- British Prime Minister Gordon Brown visited Afghanistan on Thursday and underscored his country's support of the fledgling democracy --under siege this year from a resurgence of Taliban militants.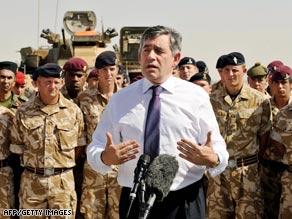 British Prime Minister Gordon Brown addresses British soldiers Thursday in Afghanistan.
Brown's visit comes during a bloody week in Afghanistan, where 10 French soldiers were killed Tuesday in fighting near Kabul and three Polish soldiers died on Wednesday in Ghazni province.
Brown's trip followed a visit by French President Nicolas Sarkozy, who traveled to Afghanistan after the deaths of the French soldiers to reiterate his country's commitment to the effort in Afghanistan.
Brown, noting Sarkozy's visit, said in a news conference with Afghan President Hamid Karzai that he wanted to "repeat today that it's a tragedy that lives were lost" and that lives continue to be lost.
"We're utterly resolute in our determination to support this new democracy of Afghanistan," Brown said. "We will not relax from our efforts to support the reconstruction of Afghanistan."
Britain has a large contingent in NATO's International Security Assistance Force and is centered in Helmand province in southern Afghanistan. A troop breakdown on ISAF's Web site lists 8,530 troops from the United Kingdom.
Brown said events in Afghanistan affect the rest of the world and he said the actions of the Taliban militants make Britain "even more resolved to defeat the forces of terrorism."
Don't Miss
Brown said Britain supports the growth of Afghanistan's army and police forces and will help mentor and train the army.
He also mentioned helping the government develop its civil service, supporting a radio station in Helmand that would disseminate information designed to win the "hearts and minds" of the populace, and providing $120 million for education, health care and economic reconstruction.
"There is still a long way to go in Afghanistan," he said, but we should remember how far we have come."
The three Polish soldiers were killed Wednesday when their vehicle struck a bomb during a combat patrol in Ghazni province, the Polish Defense Ministry said. Another soldier was wounded during the incident, and his condition is described as "serious," the ministry said.
The deaths bring the number of Polish soldiers killed in the Afghan war to eight. The Poles are part of NATO's International Security Assistance Force, which says there are 1,140 Poles in Afghanistan.
Meanwhile, Afghan commandos and U.S. forces killed 30 militants in an operation in Lagham province in eastern Afghanistan, the U.S. military said.
Militants opened fire as U.S. and Afghan forces approached, the U.S. military said. U.S. and Afghan forces returned fire and called for air support. They later found and destroyed a large cache of mortar rounds and materials for making roadside bombs, the military said.
E-mail to a friend

All About International Security Assistance Force • Afghanistan