(CNN) -- Pakistani President Pervez Musharraf has announced his resignation after weeks of pressure to relinquish power. But where does this leave Pakistan and the man who led it for almost a decade?

Will the impeachment process continue against Musharraf?
Musharraf has made many enemies since he seized power in a bloodless coup in 1999, deposing then prime minister Nawaz Sharif.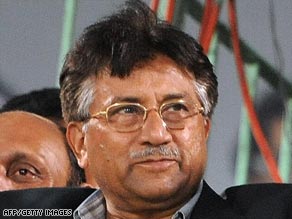 President Pervez Musharraf has until now stubbornly resisted pressure to resign.
Sharif now leads the leader of the Pakistan Muslim League-N party, part of the ruling coalition, and has called for Musharraf to be tried for treason -- a charge more severe than impeachment which brings with it the death penalty.
Others in government however are wary that Pakistan faces greater issues such as security, social cohesion, inflation, power cuts and economy.
They may be mindful of devoting too much energy in pursuing a former leader who has chosen to stand down given the wider issues impacting Pakistan.

"We want stability in the country, we want political stability," Information Minister Sherry Rehman said in comments reported by The Associated Press ahead of Musharraf's resignation announcement.
Rehman added that the party wanted to reject the "politics of revenge" that have blighted the past six decade of Pakistan's political life.

There is also how Pakistan's standing among the world community might be affected if it were to pursue a former leader seen by many in the West as a former ally.

So what will happen to Musharraf next?
Pakistan has a volatile history of political rule -- and Musharraf has always known that he might not leave power at a time of his choosing.
Local media reports suggest he has been guaranteed safe passage from the country as part of his resignation deal, thus avoiding the impeachment process.
It is known that he has a farm in Islamabad to which he wishes to retire. Alternatively he may prefer to go into exile, given the number of enemies he has accumulated during his volatile presidency.
U.S. Secretary of State Condoleezza Rice has indicated in a TV interview that it is unlikely to grant Musharraf political asylum, The Associated Press has reported.
A more viable alternative might be for Musharraf to head for one of the Gulf States or Saudi Arabia, where Sharif lived until his return to Pakistan late last year.
Who is likely to be Pakistan's next president?
The decision on who will be the next president of Pakistan rests with the national parliament and the four provincial assemblies.
Don't Miss
Asif Ali Zardar, PPP co-chairman and the widower of slain former prime minister Benazir Bhutto, hinted before Musharraf's resignation announcement that he was not interested.
Interviewed by the ARY news channel, in comments reported by the Press Trust of India, Zardari said: "I would have become the Prime Minister if I wished to become President."
Other names linked to the position include Asfandayr Wali Khan, who heads the Awami National Party, also part of the ruling coalition and which has its power base in the Pashtun region of the North-West Frontier Province.
Whoever takes power will find that the job is not an easy one.
Faisal Kapadia, a commodities trader in Karachi who runs Deadpan Thoughts, a blog about the country, told CNN: "Leading Pakistan is not an easy task, and anyone doing it comes under a lot of criticism."
Where does this leave the U.S.-led "war on terror?"
Despite claims of collusion between the Pakistani intelligence services and al Qaeda and the Taliban, the West has regarded Musharraf as a staunch ally in a region of the world where it has few. Under his watch, Pakistani troops have regularly engaged with militants in the border regions with Afghanistan.

In return Musharraf has received billions in military aid from the U.S., moreso after the terror attacks of September 11, 2001.
The West also wants Pakistan, which possesses nuclear weapons, to be stable. Dealing with the same ruler -- as it has for the last nine years with Musharraf -- creates continuity.
Whoever replaces Musharraf is likely to be a moderate compared to some of the more extreme political elements in Pakistan, who have ideological sympathy with the cause of the Taliban.
Despite the turmoil surrounding the change in Pakistan's presidency, the new incumbent may find it easier to continue Musharraf's relationship with the West -- something the West is also likely to welcome.
At the same time the incoming president will have to tread cautiously and seek to appease many moderate Pakistanis. There is growing unease among many in the country at how the "war on terror" is being conducted too close to home.
E-mail to a friend

Copyright 2008 CNN. All rights reserved.This material may not be published, broadcast, rewritten, or redistributed. Associated Press contributed to this report.
All About Pakistan • Pervez Musharraf • Nawaz Sharif