BEIJING, China (CNN) -- An attack on a security checkpoint in northwestern China's Xinjiang Uighur Autonomous Region killed three members of the security force and wounded a fourth, state media reported Tuesday.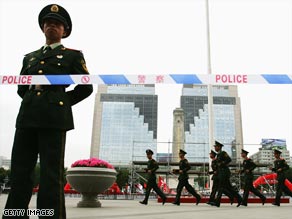 China has tightened security in the Xinjiang Uygur Autonomous Region after recent attacks.
At least one attacker jumped off a vehicle passing the checkpoint in the town of Yamanya and stabbed the four men, a local security official told the Xinhua news agency.
Yamanya is located about 20 miles (30km) from Kashgar, also known as Kashi, where a raid on border police last week left 16 police officers dead and 16 others injured.
Authorities have tightened security in the Xinjiang region since the August 4 attack, adding checkpoints on roadways and around government buildings, schools and hospitals.
The Xinjiang Uighur Autonomous Region -- also called East Turkistan -- is home to a Sunni Muslim ethnic minority. Uighurs in Xinjiang are supposed to enjoy regional autonomy, as guaranteed by China's constitution, but some want independence.
Millions of Han Chinese, the country's dominant ethnic group, have migrated to Xinjiang over the past 60 years, prompting complaints that they dominate local politics, culture and commerce at the expense of the Uighurs.
The dissatisfaction has turned violent at times, including a deadly bus bombing in 1992 in the provincial capital, Urumqi.

Watch how the region has become volatile »
Officials blamed such incidents on Uighur groups who seek an independent Muslim state. China insists only a small minority of Uighur support the separatists.
Last month, police said they had cracked five terrorist groups in the autonomous region where the attacks have taken place. Authorities said the groups were plotting to sabotage the Olympics, Xinhua reported.
E-mail to a friend

All About China • Summer Olympics • Xinjiang Uighur