ISLAMABAD, Pakistan (CNN) -- One of Pakistan's four provincial assemblies passed a resolution Monday calling for President Pervez Musharraf to leave office -- the latest tack by Pakistani lawmakers pressuring the politically embattled president to step down or face impeachment.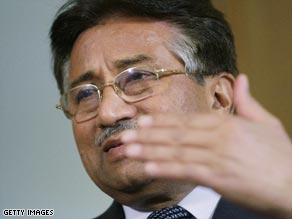 Pervez Musharraf, who seized power in Pakistan in 1999, faces impeachment proceedings.
Punjab's provincial assembly on Monday passed a non-binding resolution, 321 to 25, saying Musharraf has been an incompetent leader and should resign or call for a vote of confidence in the national parliament.
Musharraf's policies "have brought Pakistan to the brink of a critical political and economic impasse," the resolution said.
It went on: "The incompetence and failure of his policies has plunged the country into the worst power shortage in its history and brought unprecedented misery upon the people.
"His policies have paralyzed the federation and eroded the trust of the nation in key national institutions."
It added that if he fails to either step down or schedule a vote of confidence, it will urge parliament to pursue impeachment.
Musharraf can decide not to call for such a vote. Even if he does -- and lawmakers agree that they have lost confidence in the president -- the vote would be non-binding. However, such a poll would have symbolic value and might add pressure on Musharraf to leave office.
The other three provincial assemblies were expected to consider similar resolutions this week.
Musharraf has shown no inclination to step down.
The president on Monday told one of his supporters in parliament that he absolutely would not leave office. Sheikh Waqas told reporters that he met with Musharraf and that the president told him "unequivocally" he has no plans to step down.
Don't Miss
The parliamentary process to unseat Musharraf would be arduous. The ruling coalition would have to compile a list of charges against Musharraf to impeach him.

Watch reaction among Pakistanis »
Once lawmakers submit charges, the National Assembly -- the lower house of Parliament -- would vote on whether to move forward with impeachment. A majority vote would be required for the charges to be considered. Next would come an actual vote on impeaching Musharraf.
Musharraf stepped down as the chief of military last November. He has seen his power erode significantly since then, especially after the opposition parties swept to victory in parliamentary elections in February.
It is unclear how much support he still has among the military brass. The army has indicated that it wants to stay out of politics.
Musharraf has long been an ally of the United States, which has poured billions of dollars in aid during his administration to deprive Islamic militants of the sanctuary they have established along the country's rugged border with Afghanistan.
Meanwhile, news reports on Monday said Musharraf was celebrating his 65th birthday at his home in Rawalpindi with heads of the country's armed forces. Local reports also said he met with the U.S. Ambassador to Pakistan Anne Patterson, but Musharraf's office denied that.
E-mail to a friend

All About Pakistan • Pervez Musharraf