KATHMANDU, Nepal (CNN) -- Police have arrested 1,130 people Friday as they protested in front of the Chinese Embassy in Nepal's capital, Kathmandu, a police spokesman said.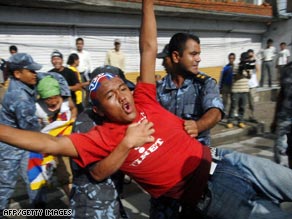 Police carry a Tibet protester away from a demonstration outside the Chinese embassy in Kathmandu.
Among those being taken into custody were Tibetan exiles, including Buddhist monks and nuns, according to authorities.
"Tibetans are continuing to come in front of the embassy and they are being arrested," Sarbendra Khanal, superintendent of police, told CNN.
Tibetan activists put the number of arrests at 1,200.
Exiles carrying Tibetan flags were dragged away and forcefully put into police vans, according to activists.
But police said the protesters were arrested for demonstrating in restricted areas and because they were involved in anti-Chinese activities.
Tibetan activists said that they were protesting a lack of religious rights in Tibet.
Nepal does not allow any anti-Chinese activities on its soil.
On Thursday, 513 Tibetan exiles were taken from a prayer meeting and arrested, but were released several hours later.
E-mail to a friend