BEIJING, China (CNN) -- Ten thousand athletes have gathered in China for the Olympics, along with hundreds of thousands of fans and 30,000 journalists. All are being watched over by 100,000 security forces.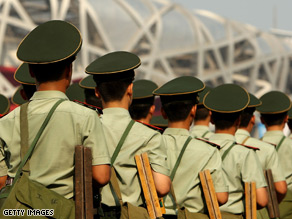 Chinese soldiers patrol near Beijing National Stadium, which is also is protected by anti-aircraft guns.
In Beijing, heavily armed police roam the airport. Subway passengers must submit to bag checks and go through X-ray machines. The National Stadium is protected by anti-aircraft guns.
"The Chinese are clearly hyper-focused and hyper-worried about security, and this is something they've been working on for at least three or four years by now," said David Finklestein, an expert on China who serves as the director of the China Studies Center.
Officials stepped up security measures after an attack Monday in the city of Kashgar killed 16 police officers and wounded 16 others. Kashgar is 2,500 miles from Beijing in northwestern China.

Watch security on alert »
The Olympics opening ceremony is Friday at Beijing National Stadium.
Olympic spokesman Sun Weide told the Daily Telegraph of London: "We have strengthened security work in all Olympic venues and in the Olympic village. We are well-prepared in security for the upcoming games."
Steve Vickers, a security assessment expert, said the Chinese security apparatus is more than prepared.
"I've never seen such an extraordinary security effort," said Vickers, the president of International Risk. "We think the Olympics will proceed and they will proceed smoothly and well. We think the Chinese have got it covered as far as humanly possible."

Watch athletes have "never been better protected" »
The government is closely watching the streets for potential dangers and for unapproved protests.
Don't Miss
China has spent hundreds of millions of dollars on video surveillance and facial recognition technology, security analysts say.
Beijing is wired and will stay that way after the Games.
"There's been a lot issues about this raised about how this technology will be used after the Games and even during the Games," said Richard Chace, a security expert. "That is a real concern, the legacy issue."
Terrorism worries the Chinese government the most. State media reported in July that the anti-terrorism force was placed on high alert.
Both Interpol and the U.S. State Department have said there is cause for concern, especially over Muslim extremists with possible links to al Qaeda.
Earlier this year, Chinese officials said they stopped a plot to bomb Beijing and Shanghai and to poison the water supply during the Olympics. In March, a flight crew allegedly prevented a hijacking. Muslim separatists from the restive Xianjiang region were blamed both times.
"I doubt that group has the wherewithal to make it to central Beijing and to intervene in the Olympics, but it is a threat and there are many other threats," Vickers said.
Beijing officials said they have prepared for many kinds of attacks.

Map of China »
"Beijing as the host city will, of course, make full preparations for biological attacks like anthrax. We have even made antibiotics and vaccines," said Jin Dapeng, a member of the medical support group of the Beijing Olympic organizing committee.
Authorities also want to ensure protesters from other nations are unable to enter the country.
But in the last few months, it has become clear some activists will try to launch protests -- hoping to get attention for sensitive issues like human rights in Tibet. As a result, the government has set up protest venues -- three parks across the city, but well away from sporting events and any spectators.
Ritan Park is one of the designated protest zones. Potential protesters must submit an application in person five days before the demonstration, including the purpose, date, time, and all posters and slogans that will be used.
Protesters recently gathered near Tiananmen Square to object to a neighborhood being torn down for commercial buildings. Other homes have been razed for the government to plant trees and flowers.
The protest was quickly stifled by police.
"We're not against the Olympics," said a woman who identified herself as Liu Fumei, an evicted resident. "But they shouldn't have destroyed my house, evicted me and left me homeless."
E-mail to a friend

CNN's John Vause and Emily Chang contributed to this report.
All About China • Olympic Games • Beijing