(CNN) -- Tonga's king is giving up most of the near-absolute power that his family has held for centuries in the South Pacific nation, the country's news agency reported Monday.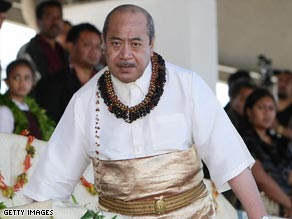 The royal dynasty currently headed by King George Tupou V was founded in 1845.
King George Tupou V will let the prime minister guide the day-to-day governmental affairs, Tonga Now reported. He will continue to hold on to judicial powers, including the ability to appoint judges and commute prison sentences.
George V, 60, announced his plans as the country prepares a days-long coronation ceremony that begins Friday.
The decision, he said, is meant to prepare the country for parliamentary elections in 2010.
Tonga, with a population of 119,000, is the only monarchy that remains in the Pacific.
Currently, the king appoints the prime minister and 12 to 14 Cabinet ministers. Noble families choose nine others. Voters elect just nine.
"(He) is voluntarily surrendering his powers to meet the democratic aspirations of many of his people," the news agency said. "They see Tonga's royal heritage as integral to the country's culture and identity, but favour a more representative, elected Parliament. The king agrees with them."
Tonga has for years promised to pave the way toward a democratically elected parliament, but reforms have been slow in coming.
George V ascended to the throne after the death of his father in September 2006, and promised to speed up the changes.
Two months later, a pro-democracy rally in the capital city of Nuku'alofa led to riots that left eight people dead and the central business district in ruins.
Closing a session of Parliament a week later, the king said, "Let us rebuild a new capital and a new Tonga."
The announcement, the news agency said, is part of that promise.
Already this year, two other countries saw the end of monarchy.
In March, Bhutan held elections that ended more than 100 years of royal rule in the South Asian nation and transformed it into a democracy.
Two months later, neighboring Nepal declared itself a republic following the elections for a new Constituent Assembly that abolished a 239-year monarchy.
Tonga is an archipelago of 171 islands directly south of Western Samoa. Less than a third of the islands are inhabited.
The present dynasty was founded in 1845 after the Tongan islands were first united.
E-mail to a friend