(CNN) -- It is a "near certainty" that an al Qaeda chemical weapons expert was killed in a U.S. airstrike in Pakistan's tribal region, a senior Pakistani official said Tuesday.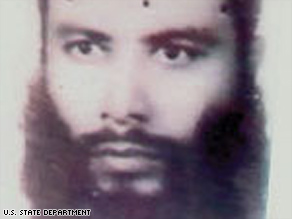 Reports that Midhat Mursi al-Sayid Umar was killed in a January 2006 airstrike were false.
Pakistan's army refused to confirm reports that the U.S. had carried out an airstrike. Maj. Gen. Athar Abbas, an army spokesman, said the military is still awaiting more details.
Pakistani Prime Minister Yousuf Raza Gilani, who is visiting the United States, said that such a strike, if confirmed, would violate Pakistan's sovereignty.
"I have already talked to President Bush that there should be more cooperation on the intelligence side, so that when there is credible and actionable information given to us, we will hit ourselves," Gilani said Monday.
The weapons expert, Mursi al-Sayid Umar, is on the U.S. State Department's list of 37 wanted terrorists, and the United States has offered $5 million for information leading to his death or capture.
Umar, 55, also known as Abu Khabab al-Masri, was reportedly near the site of a U.S. airstrike more than two years ago in the Pakistani mountain village of Damadola.
The strike targeted a dinner believed to include terrorists. Initial reports that Umar died in the January 2006 strike proved erroneous.
"Abu Khabab" ran a chemicals and explosives training camp for terrorists in Derunta, Afghanistan, before the fall of the Taliban, U.S. officials said.
"Since 1999, he has distributed training manuals that contain instructions for making chemical and biological weapons," according to the U.S. Rewards for Justice program. "Some of these training manuals were recovered by U.S. forces in Afghanistan."
The program said Umar was believed to be in Pakistan, continuing to train al Qaeda terrorists and other extremists.
E-mail to a friend

CNN's Tricia Escobedo and Aliza Kassim contributed to this report.
All About Al Qaeda • Pakistan • U.S. Department of State