From CNN State Department Producer Elise Labott
(CNN) -- U.S. Secretary of State Condoleezza Rice pressed her North Korean counterpart Wednesday to agree a plan for verifying its nuclear activity.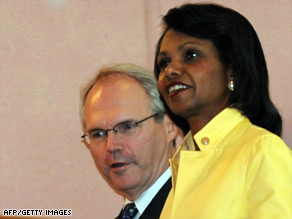 Diplomats Condoleezza Rice and Christopher Hill walk between meetings Wednesday in Singapore.
It was the highest level meeting between the two countries in four years and also involved China, Russia, Japan and South Korea -- the six nations involved in trying to secure a nuclear free Korean peninsula.
Chinese Foreign Minister Yang Jiechi described the talks as "quite significant" and said that "major issues" were discussed "in a frank and proactive manner."
"This in itself shows that the six parties have the political will to move forward the six-party talks process," he said.
Rice, who told reporters she shook hands twice with North Korean Foreign Minster Pak Ui Chun, called the informal session "a good meeting" but said there were "no surprises."
She said that all parties emphasized to North Korea the need to complete a three-phase agreement in which Pyongyang promised to dismantle its nuclear weapons program.
In return, Washington has agreed to take North Korea off the U.S. list of state sponsors of terrorism.
Rice said the parties pressed North Korea to quickly agree to a plan for verifying its nuclear activity, which it documented last month in a "declaration" of its nuclear past.
"The spirit was good because people believe we've made progress. But there is also a sense of urgency about moving on," Rice said. "We can't afford to... have another hiatus of several months."
The encounter took place on the sidelines of the summit of the Association of Southeast Asian Nations.
A spokesman for Pak said during the session the North Korean foreign minister emphasized the need for "full implementation" of obligations from all parties.
"He further expressed the willingness of the DPRK (Democratic People's Republic of North Korea) government to fully implement, closely following the implementation of the other parties on the principle of action for action," spokesman Ri Tong Il said.
The meeting was billed as an "informal" session, rather than an official ministerial of the six party countries. Rice and Jiechi said they hoped a more formal meeting could be held soon in Beijing, China.
South Korean Foreign Minister Yu Myung-Hwan called the meeting a good opportunity to "show that the six-party process is maturing."
E-mail to a friend

All About North Korea • Nuclear Weapons • Condoleezza Rice