NEW DELHI, India (CNN) -- Indian Prime Minister Manmohan Singh won a vote of confidence Tuesday, allowing his ruling party to keep in play a controversial, proposed nuclear partnership with the United States.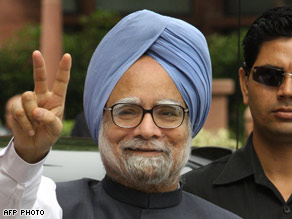 Prime Minister Manmohan Singh called for vote after communist parties withdrew support.
Singh and his Congress party won 275-256. There were 10 abstentions, and two seats are vacant in the 543-member house.
A no-confidence vote in the lower house of Parliament would have forced Singh to resign, and would have forced the government to hold early elections unless a new coalition was formed. The Congress Party-led coalition has governed India since 2004.
A loss also would have doomed a nuclear deal, announced in 2006 and signed by U.S. President George Bush and Singh a year ago, that would expand U.S.-Indian cooperation in energy and satellite technology.
Although it does not have to be ratified by the parliament -- India's Cabinet approved it last year -- Singh's recent efforts to implement the plan helped bring on the confidence vote.
The vote was so crucial to the survival of Singh's government that five members of parliament serving prison sentences were freed to cast votes -- under the watchful eyes of their jailers.
The deal, which has many critics for differing reasons, would give India access to U.S. nuclear fuel and technology for its civilian nuclear power plants. That would happen even though New Delhi, which tested nuclear weapons in 1974 and 1998, has declined to join international non-proliferation agreements.
India has promised that it will not transfer the fuel and equipment to its weapons program. It would also allow the International Atomic Energy Agency to inspect at least 14 of its 22 nuclear plants.
The leaders of India's two communist parties -- which hold about 60 seats in Parliament -- have accused Singh of surrendering India's sovereignty to the United States with the deal.
The U.S. Congress would have to change U.S. law before it could transfer fuel or technology to India.
E-mail to a friend

CNN's Sara Sidner contributed to this report.
All About India • Politics • United States