SEOUL, South Korea (CNN) -- South Korean President Lee Myung-bak named three new cabinet ministers Monday in the continuing fallout from his controversial policy to renew U.S. beef imports, the Yonhap news agency reported.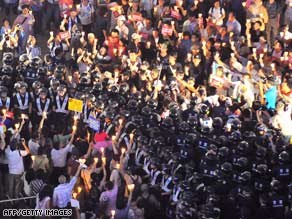 South Korean police surround protesters against U.S. beef imports in Seoul Sunday.
The cabinet reshuffle puts new ministers in charge of agriculture, welfare and education affairs, a presidential spokesman said, according to Yonhap. In a similar move, Lee replaced seven top aides last month.
The changes follow weekend demonstrations that brought tens of thousands of South Koreans to the streets of the capital to protest the government's decision to import what they say is unsafe U.S. beef.
South Koreans have protested regularly since April, when the government announced it would resume importing beef from the United States after a five-year ban. That ban was instituted over a case of mad cow disease in the United States in 2003.
After a series of negotiations, Seoul and Washington came up with a revised agreement on June 21 -- one that limits imports to cattle younger than 30 months old. Animals older than 30 months old are considered at a greater risk for mad cow disease, which can be transmitted to humans.

Watch how media reports fueled mad cow fears »
The revised agreement also excludes the importation of certain parts believed more susceptible to mad cow disease. The initial deal would have allowed the importation of all U.S. beef.
Scientists believe mad cow disease spreads when farmers feed cattle recycled meat and bones from infected animals. The U.S. banned recycled feeds in 1997.
Don't Miss
Eating meat products contaminated with the illness has been linked to variant Creutzfeldt-Jakob disease, a rare and fatal malady in humans.
Until 2003, South Korea was the third-largest market for U.S. beef exporters.
E-mail to a friend