ISLAMABAD, Pakistan (CNN) -- Militants set fire to a hotel at Pakistan's only ski resort Thursday, as security in the Swat Valley continued to deteriorate despite a month-old peace deal.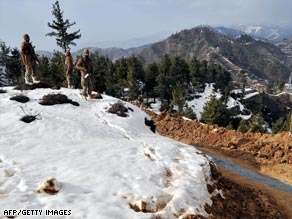 Pakistani soldiers on patrol in the Swat Valley, which is home to the country's only ski resort.
Militants forced their way into the state-run hotel in the northwestern tourist valley early Thursday morning, ransacked it and set it on fire, said Sardar Rehim Shahzad, district coordinator for Swat police.
The hotel, the only one at the Malam Jabba ski resort, sustained significant damage, he told CNN.
The resort is located near the Afghanistan border and about 300km (186 miles) from the capital city of Islamabad. It was shut down last summer after militants overran the area, keeping tourists away, Shahzad said.
Swat Valley, located in North West Frontier Province (NWFP), was once Pakistan's biggest tourist destination. Aside from the ski resort, it was a draw for trout-fishing enthusiasts and visitors to the ancient Buddhist ruins in the area.
In recent months, however, militants bent on imposing fundamentalist Islamic law, or Sharia, have unleashed a wave of violence across the NWFP which has claimed hundreds of lives, many of them security personnel.
The militants want women to wear veils, beards for men and to ban music and television.
After months of bloody battles, the government in May reached a peace deal with fighters loyal to the banned hardline Islamic group, Tehreek Nifaz-e-Shariat Mohammadi (TNSM).
It is the latest attempt by Pakistan's new government -- headed by the party of the assassinated prime minister Benazir Bhutto -- to achieve peace through negotiations in the lawless tribal areas where Taliban and al Qaeda leaders are believed to have free rein.
Ahead of the peace pact, Pakistan's government released TNSM's former leader Sufi Mohammed, who had been jailed in 2002 after recruiting thousands of fighters to battle U.S. forces in Afghanistan.
He was freed after agreeing to cooperate with the government. Under the terms of his release, TNSM was also expected to lay down its arms and forgo violence.
But his son-in-law Fazlullah, who took over TNSM during his jail stint, vowed to continue his fight to impose fundamentalist Islamic law in the region.
E-mail to a friend