KANDAHAR, Afghanistan (CNN) -- Two NATO troops, four Afghan police officers and at least 26 militants were killed in two days of violence in southern and eastern Afghanistan this week, Afghan authorities said Tuesday.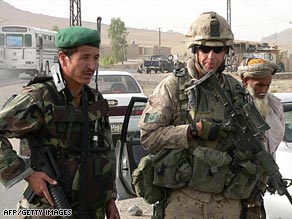 An Afghan and Canadian soldier man a checkpoint near Kandahar, in southern Afghanistan.
The U.S. military commander in Afghanistan said Tuesday that attacks on U.S. and allied forces are up about 40 percent this year over last year.
Taliban fighters are targeting civilian sites such as schools, municipal government buildings and road development projects, Army Maj. Gen. Jeffrey Schloesser said.
"Overall, what you are seeing is the deliberate targeting of anything that will improve the quality of life for the normal Afghan citizen," Schloesser said.
Schloesser gave no breakdown of the figures. But more than 30 allied troops, including 14 Americans, have been killed this month in Afghanistan, the original front in the war on terrorism launched after the September 11 attacks.
"We are really at the height of fighting season here in Afghanistan," Schloesser said.
The increase in attacks stems in part from the movement of American and Afghan forces into previously unoccupied territory, the U.S. command in Afghanistan said in a statement clarifying Schloesser's remarks. And it said that despite the increase, the number of American casualties from January to May is about the same as in the same period last year.
Don't Miss
On Monday, militants attacked a border police post between Kandahar and Uruzgan provinces in the south, killing three police officers and wounding seven, according to Uruzgan's provincial police chief, Juma Khan Hemat.
Police in Uruzgan were dispatched into the Shah Wali Kot district of Kandahar province, where police and militants battled for several hours, Hemat said. Killed were 11 Taliban militants, some of whom were Pakistani, he said.
In the Sayed Karam district of Paktia province in the east, coalition forces attacked Taliban militants Monday, said Esmatuallah Alizai, Paktia's provincial police chief. They killed 15 militants, some of whom are thought to have been foreign fighters, and wounded four, he said.
In the Guzara district of Herat province in the west, gunmen on a motorbike fatally shot a female police officer, police said. The attackers were arrested and are being interrogated, said Abdul Raouf Ahmadi, spokesman for police forces in western region.
He said he believes that the officer was the first female Afghan police officer to die in the line of duty since the fall of the Taliban in 2001.
NATO's International Security Assistance Force said one of its troops died Tuesday from wounds suffered when a vehicle struck a mine in Nangarhar province in eastern Afghanistan. And a British soldier with the International Security Assistance Force died during fighting Tuesday in Helmand province in the south, United Kingdom defense officials said.
A rocket struck a NATO air base at Kandahar, the Taliban's traditional stronghold, Tuesday night, causing a fire that burned for more than an hour. There was no immediate report of casualties, said CNN Senior International Correspondent Nic Robertson, who was at the base when the rocket struck.
Soon after Tuesday's attack, at least three explosions and heavy machine-gun fire could be heard from the area where the rocket was launched.
The U.S.-led coalition toppled the Taliban, which once ruled most of Afghanistan, a few months after its al Qaeda allies attacked New York and Washington. But the Taliban has proven to be a persistent foe for the coalition, freeing nearly 400 of its fighters in a jailbreak in Kandahar this month and launching rockets from across the border with Pakistan at NATO bases in Afghanistan.
E-mail to a friend

CNN Pentagon Correspondent Jamie McIntyre and CNN's Farhad Peikar contributed to this report.
All About Afghanistan • The Taliban • Terrorism