SEOUL, South Korea (CNN) -- Strict inspections will be in place when South Korea resumes importation of U.S. beef, following a public outcry over concerns about mad cow disease.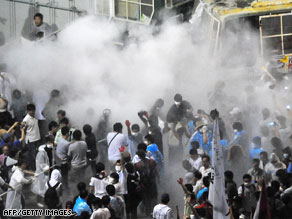 Police use extinguishers on protesters during an anti-U.S. beef rally in Seoul on Sunday.
"Please prepare sufficient quarantine inspection measures ahead of imports, fully reflecting the results of the additional talks," Prime Minister Han Seung-soo said at a meeting with agriculture officials, the Yonhap news agency reported.
U.S. beef imports are expected to resume this month.
A revised agreement between Seoul and Washington was confirmed on Saturday after a series of negotiations.
The agreement allows for the resumption of imports of American beef, but not from cattle older than 30 months, including the exclusion of certain parts believed more susceptible to mad cow disease.
"Our trade officials did their best," Han said. "I hope the public concerns will be fully resolved."
Don't Miss
The initial deal that would have allowed the import of almost all U.S. beef prompted widespread public protests shortly after it was announced in April, essentially paralyzing the government of President Lee Myung-bak.
Lee replaced seven top aides Friday and plans to reshuffle his cabinet.
The ban on American beef products began five years ago, instituted over a case of mad cow disease in 2003.
Eating meat products contaminated with the illness has been linked to variant Creutzfeldt-Jakob disease, a rare and fatal malady in humans.
Scientists believe mad cow disease spreads when farmers feed cattle recycled meat and bones from infected animals. The U.S. banned recycled feeds in 1997.
E-mail to a friend

All About South Korea • Lee Myung-bak