(CNN) -- CNN is "Going Green" in the pursuit of the most innovative and effective solutions to the world's most pressing problems.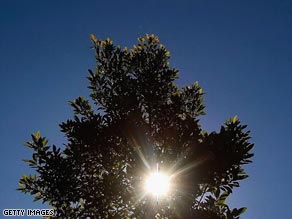 Shining a light on the problems and solutions that we face.
On TV and online we'll be looking at the ways in which climate change is being tackled, from grassroots initiatives in alternative energy to the bigger plans to create a low- or even no-carbon future.
Looking ahead to the G8 summit in Toyako in Japan from July 7 - 9, we ask those working at the sharp end of combating climate change what can come from the discussions and, if they were given a minute with the G8 leaders, what advice they would give them.
While politicians will be debating the issues of climate change in Japan, we want to know what bright solutions you have and the changes you are making to improve the environment.
No matter where you live, share your ideas and make yourself heard as a CNN iReporter.
Moving beyond the green-washing of marketing and companies advertising their green credentials, we look at what being an ethical consumer really means as well a providing simple tips on how to make small changes to your life that can make a big difference.
Danny Seo, "the Martha Stewart of green living," gives us his advice on living a greener life and we uncover community initiatives aimed at taking control of the future, such as "transition towns," that are springing up across the world.
Find out what eco-tourism really means, with tips to have an eco-friendly holiday, plus, find out how communities and villages are welcoming tourists into their homes on their own terms for ethical and action-packed vacations.
And from June 30 CNN will be reporting from Lagos, Guatemala City, Iceland and Inner Mongolia - to name just a few places - on the local ideas, grand plans and sophisticated designs that are already proving practical solutions to our global problems can be found.
E-mail to a friend