(CNN) -- Monsoon rains are hindering relief efforts in Myanmar as humanitarian agencies attempt to get aid into the cyclone-ravaged country, a UNICEF spokesman said on Monday.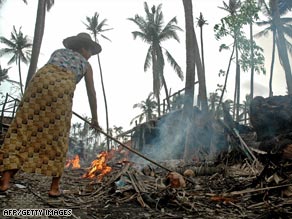 Aid agencies say hundreds of thousands of survivors are without shelter as the monsoon season begins.
More than 77,000 people have already died in the secretive southeast Asian since Cyclone Nargis devastated the Irrawaddy delta region in early May, according to United Nations estimates.
But at least 55,000 more remain missing and as many as 600,000 require relocating after losing their homes. Aid agencies have been frustrated in their rescue efforts by restrictions placed on their movements inside the country by Myanmar's military junta government.
UNICEF's Michael Bociurkiw told CNN that the government had finally granted permission for the organization to use helicopters to deliver aid to those in need but said making deliveries meant battling strong winds and rain.
Don't Miss
"Monsoon season has come to Myanmar," Bociurkiw said. "It is very very difficult to deliver aid even in very large helicopters. But we are getting out there and putting up with the elements."

Watch refugees talk about the lack of aid »
Prior to the government's decision to allow aid agency helicopters to be used, getting relief supplies to the worst-hit areas had involved delivering them by truck along dirt tracks and transporting them by boat.
Bociurkiw said his organization, along with others, had been able to reach people living in the southern Irrawaddy delta region, but said the need for aid was still intense.
"I think everybody would agree that there still is a substantial amount of people that have not received aid," he said.
"But with the government allowing these helicopters in, it has given us a totally new avenue into the worst affected areas."
E-mail to a friend

All About Myanmar • Cyclone Nargis