Fareed Zakaria is a preeminent foreign affairs analyst and hosts "Fareed Zakaria: GPS" on CNN Sunday at 1 p.m. ET. He spoke to CNN about how other countries might react if Barack Obama is elected president.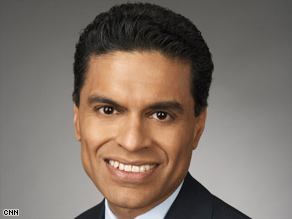 Fareed Zakaria says a Barack Obama presidency would illustrate an "only in America" type of story.
NEW YORK (CNN) -- CNN: There's a huge international perception that Sen. Obama is going to be better for America's image abroad if he were to win. What are your thoughts on Sen. Obama possibly winning the election?
Zakaria: There's no question that Sen. Obama winning would have an impact on America's image for the better. It would boost America's image, it would give people a sense of the promise of America, the "only in America" type of story.
The question is, really: Is this going to be more than a momentary boost? And my suspicion is that it will not last unless there are policies that pursue a very different course than we've been pursuing.
CNN: What would be the most important policy we change?
Zakaria: Sen. Obama seems determined to change the tenor of America's diplomatic relations and its more general approach to the world. That's wonderful. For him, trade policy is vulnerability.
Most people around the world want the United States to keep this open-world economy going, and they care much more about that than whether the United States is multilateral in the United Nations Human Rights Convention.
The core issue for a Kenyan farmer, for a Brazilian businessman, for an Indian entrepreneur is, will the United States help keep markets open?
That's the issue that will determine long-term whether Sen. Obama's popularity translates into a better image for America around the world.
CNN: What about his comments on that he will speak with leaders of dictatorships?
Zakaria: That, I think, is a political issue for the domestic audience, and even there, we have increasing evidence from polls that a majority of Americans actually support him on it.
As for the rest of the world, they are surprised we don't. Most of the rest of the world have diplomatic channels with some of these regimes.
There is a North Korean Embassy in London, and the Brits have an embassy in Tehran. We are the odd man out in this situation
E-mail to a friend

All About Barack Obama • National Economy