SEOUL, South Korea (CNN) -- The top aides of South Korean President Lee Myung-bak offered their resignations Friday in the midst of a growing public uproar over an unpopular deal to resume the import of U.S. beef, Lee's office told CNN.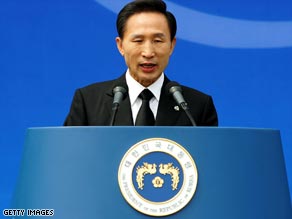 S. Korean President Lee Myung-Bak reached agreement with U.S. over import of 'high risk' materials.
The eight staffers hold themselves responsible in the collective resignation that was delivered to Lee by his chief of staff, according to Lee Dong-kwan, a spokesman for the president's office.
It was not known if Lee would accept their resignations.
Washington and Seoul reached an agreement in April that bans the import of high-risk materials, like tonsils, brains, spinal cord marrow and a section of the small intestine. It put no age restrictions on the cattle.
But on Monday, the South Korean government put off the final administrative step needed to resume imports. Without that step taking place, no beef will be imported from the United States.
Animals more than 30 months old are considered at a greater risk for mad cow disease, which can be transmitted to humans.
Soon after last week's announcement, thousands of people responded with regular protests, chanting "We don't want crazy cows."
Don't Miss
Authorities have dispatched more than 10,000 riot police everyday to keep the peace, Yonhap said. Demonstrators began a 72-hour protest Thursday night.
The ban on American beef products began five years ago, instituted over a case of mad cow disease in 2003.
E-mail to a friend

All About South Korea