ISLAMABAD, Pakistan (CNN) -- A Web posting purportedly from al Qaeda has claimed responsibility for Monday's blast outside the Danish embassy in Pakistan, which killed at least six people.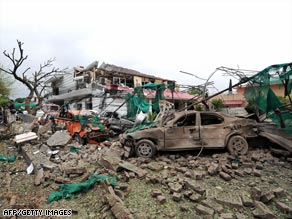 The scene of devastation in Islamabad Monday after a suicide car bomb attack near the Danish embassy.
The statement was posted late Wednesday on a Web site frequently used by Islamic militants. It said the bombing in the capital city of Islamabad honored a promise by al Qaeda leader Osama bin Laden to retaliate against Denmark after newspapers there reprinted cartoons that Muslims say insult their prophet.
Wednesday's message warned that more attacks will follow if Denmark refuses to apologize for the cartoons.
CNN could not independently confirm the authenticity of the message.
Authorities said a suicide car bomber pulled up next to the embassy Monday afternoon and detonated explosives 10 to 15 feet from the embassy gate.
Among the dead was a security guard working at a nearby United Nations Development Programme building. The dead also included a gardener and a custodian who worked in the Danish embassy.
Don't Miss
The massive blast, heard more than two miles away, wounded 24 people, damaged the embassy wall and a neighboring United Nations building. It left a four-foot deep crater in the road.

Watch witnesses describe the blast »
A day after the bombing, Denmark's intelligence service said it believed al Qaeda or one of its affiliates was likely behind the blast.
The Islamabad attack came six weeks after al Qaeda deputy leader Ayman al-Zawahiri, in a video message, called on Muslims to retaliate against Denmark for the caricatures.
Danish embassies in predominantly Muslim countries, such as Pakistan, have been the scenes of protests since several Danish newspapers in February reprinted cartoons that Muslims say insult their prophet.
The papers did so after Danish authorities arrested several people who allegedly were plotting a "terror-related assassination" of one of the cartoonists, Kurt Westergaard.
Westergaard's cartoon depicted the prophet wearing a bomb as a turban with a lit fuse. He said he wanted his drawing to say that some people exploited the prophet to legitimize terror. However, many in the Muslim world interpreted the drawing as depicting their prophet as a terrorist.
Islam generally forbids any depiction of the prophet -- even favorable ones -- fearing that may lead to idolatry.
Meanwhile, an explosion at a small railway bridge in western Pakistan killed two children early Thursday, police said, adding that debris from the blast landed on their home.
The blast occurred in a village outside Quetta, the provincial capital of Balochistan.
Police said they do not know who was responsible.
E-mail to a friend

CNN's Saad Abedine contributed to this report.