BOGOTA, Colombia (CNN) -- Colombia will freeze prices for gasoline and other petrofuels through March, the government has announced.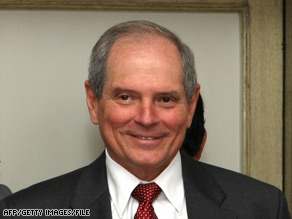 Hernan Martinez Torres, in a photo from September, says gas prices will be frozen in Colombia through March.
The freeze takes effect Thursday and sets prices at December levels, the minister of mines and energy said Monday.
The measure will be funded through a $170 million Fund for the Stabilization of Prices for Combustibles, which goes into effect January 1, a release on the Colombian president's Web site says.
"All this is being done to give consumers a clear signal of stability," Minister of Mines and Energy Hernan Martinez Torres is quoted as saying in El Pais newspaper.
Gas prices also will not decrease, although there has been a significant drop in crude oil prices in the past few months, Martinez said.
The price freeze pertains to gasoline, biogasoline (oxygenated gasoline), a product called ACPM (combustible oil for motors), and the mix of ACPM and biodiesel.
For the time being, El Pais said, only propane will see a decrease in price, with the price going down 25 percent. It's the second price drop for propane, which decreased 10 percent in November.
E-mail to a friend

All About Colombia • Gas Prices • Energy Policy