MEXICO CITY, Mexico (CNN) -- The president of the Mexican Chamber of Deputies has asked authorities to shed light on the kidnapping and slaying of Silvia Vargas Escalera, daughter of the former head of the National Commission on Sports and Physical Fitness.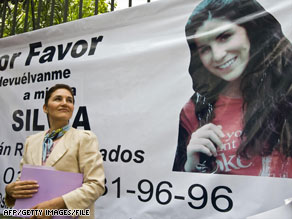 Silvia Escalera stands next to a banner asking for the release of her daughter in Mexico City in August.
Vargas was kidnapped in September 2007. Her body was found December 5 in Mexico City but was not identified until Thursday after DNA tests.
"It is lamentable that such an event has happened," said Cesar Duarte, president of the Chamber of Deputies. "The whole country is shocked by it."
Vargas' funeral will be held Saturday afternoon in Mexico City.
The case came to light a year after Vargas' kidnapping, when her parents asked the public for help. Two months later, the pleas changed to demands.
Nelson Vargas, father of the 18-year-old woman, denounced what he saw as negligence by authorities, saying he had given them evidence that presumably linked his chauffeur with a band of kidnappers known as the Reds.
"We asked ourselves if the reason why no one wants to grab those who are guilty is because they are afraid that high-level authorities from the PFP, SIEDO, AFI would be linked, as has happened in other kidnapping and narcotrafficking cases," Vargas said.
PFP is the acronym for the Spanish name of the Federal Preventive Police. SIEDO is the acronym for Mexico's principal federal agency in the war against organized drug trafficking and the AFI is the Federal Agency of Investigation.
The agencies did not respond to the allegations.
The kidnappings and killings of Vargas and of a young man named Fernando Marti have become emblematic cases for a Mexican society that is demanding an end to kidnappings and police corruption.
"Without fear of being wrong, I believe that 85 or 90 percent of kidnap gangs in Mexico are led by a police officer or an ex-police officer, as they are known because once they are discovered their bosses automatically fire them," said Max Morales, a kidnapping expert.
Vargas' parents, meanwhile, prepared for Saturday's memorial Mass. They asked anyone coming to wear white as sign of pain and as a last memory of their daughter.
Kidnappings and violence reached record levels in Mexico this year.
Attorney General Eduardo Medina Mora said this month that organized-crime killings soared to 5,376 in 2008, more than double the 2,477 deaths in 2007.
Mexican President Felipe Calderon met over the summer with the country's 32 governors to unveil a plan to combat the nation's staggering rise in kidnappings.
The plan included building special prisons for kidnappers, bolstering the justice system, cleaning up corrupt police forces and clamping down on kidnapping tools such as prepaid cell phones and money-laundering.
E-mail to a friend

All About Mexico • Kidnapping