Editor's note: Fareed Zakaria is a foreign affairs analyst who hosts "Fareed Zakaria: GPS" on CNN at 1 p.m. ET Sundays.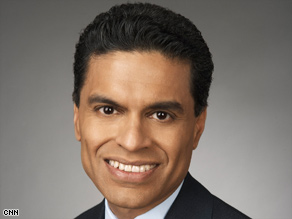 Fareed Zakaria applauds India's restrained response to the Mumbai terrorist attacks
NEW YORK (CNN) -- India's top law enforcement official has admitted there were government "lapses" during last week's terror attack on Mumbai, amid outrage over security and intelligence failures, according to reports.
"There have been lapses. I would be less than truthful if I said there had been no lapses," Home Minister Palaniappan Chidambaram told journalists Friday, The Associated Press reported.
Chidambaram's admission came after security sources told CNN's sister network, CNN-IBN, that the attackers who killed nearly 180 people last week had help from a Bangladeshi national.
Indian authorities believe all the attackers were Pakistanis, specifically blaming Lashkar-e-Tayyiba (LeT), an Islamic militant group based in Pakistan. LeT has denied any responsibility for the attacks, but the sole surviving gunmen told interrogators he was trained by LeT, Indian authorities have said.
Pakistani authorities denied the attackers were from their country, instead blaming what they call "non-state" actors.
CNN spoke to world affairs expert and author Fareed Zakaria to get his take.
CNN: Do you think the attacks in Mumbai were India's 9/11?
Zakaria: India has had a history of terrorist attacks -- Prime Minster Indira Gandhi was assassinated by a disaffected population in the state of Punjab and her son Prime Minster Rajiv Gandhi was assassinated by a member of the Tamil separatist group -- one of the first terrorist groups to use suicide bombings.
However, there is something different in the scope and feel of this attack. It was highly planned, targeted at high profile targets and the reaction has been larger than in the past.

Watch Fareed on the India terror attack »
CNN: How will India respond?
Zakaria: The main thrust of the debate in India has focused on getting information. Why they were not better prepared? Why their police and military response was inadequate? And what should be done to fix it?
It's actually a mature response. The anger and rage felt by the population is not being directed down a dangerous path.
CNN: What would that dangerous path be?
Zakaria: A rush to war. Look, there is a clear link between the attack and Pakistan. Maybe not the Pakistani government, but clearly these attacks were planned in Pakistan. But the Indians are playing it cool.
"No one is talking about military action," said the Indian Foreign Minister, Pranab Mukherjee. Even the hardliner opposition party, the BJP, has only called for coercive diplomacy that forces Pakistan to live up to its U.N. obligations to fight terrorism.
CNN: Was the Pakistan government involved?
Zakaria: Probably not at an official level. But the attacks required training -- as David Kilcullen, a counter insurgency military analyst, points out on our show this week.
"I think this event looks a lot more like a classical Special Forces or commando-style raid than it does like any terrorist attack we've seen before...No Al Qaeda-linked terrorist group and certainly never Lashkar-e-Tayyiba has mounted a maritime raid of this type or complexity.
Hijacking a fishing vessel, infiltrating via the sea, via inflatable boat but then also launching diversionary attacks designed to pull the first responders out of the way of the subsequent follow on groups that struck the Oberoi the Taj Majal, the Nariman Center.
And then when we did see these groups taking and holding these buildings, they were applying some pretty sophisticated methodology. I think also if you look at these attackers themselves, we have nine bodies and one detainee...if you look at the equipment that they carried and the way that they operated, this was very much in the vein of a special-forces raid rather than a traditional terrorist attack.
The guys had backpacks with about 20 pounds of explosives each, they had some pretty sophisticated weaponry, cryptographic communications, satellites, cell phones, credit cars, false IDs, they were clean shaven and dressed in western clothes. You know, this was a clandestine operation or a covert operation style activity."
The real question is what is the connection between the Pakistani government and retired military officers? And why can they not shut down these operations?
CNN: What should the US do?
Zakaria :Pressing Pakistan to get its act together and finally stop shielding terrorists and allowing them to live and operate freely on its territory. Hold the Pakistani military accountable for its officers - whether they are technically retired or not - who train and equip these forces by the hundreds.
If not, if India's restraint does not yield results, then it's going to give New Delhi every reason to decide that the only workable option it has is military force - and that would take this crisis to a whole new level.
E-mail to a friend

All About Mumbai • Indira Gandhi • Rajiv Gandhi • Lashkar-e-Tayyiba