CAMAGUEY, Cuba (CNN) -- Thousands of Cubans, including President Raul Castro and Communist Party leaders, flocked to a Catholic ceremony on Saturday putting a 19th century monk on the path to sainthood.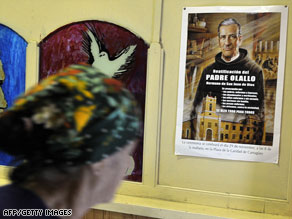 A woman looks at a poster advertising the beatification Mass for Friar Jose Olallo Valdes.
Saturday's Mass honored Friar Jose Olallo Valdes, known as the father of the poor. It was the first beatification ceremony on the island.
"From here on, let him be called blessed," said the pope's representative, Cardinal Jose Saraiva Martins of the Congregation for the Causes of Saints at the Vatican.
The outdoor Mass at the Plaza de la Libertad Square, across from the Iglesia de la Caridad Church, was punctuated with a definite Latin rhythm as Cuban music, singing and a festive atmosphere filled the air. Some people in the crowd waved placards with the friar's image on it.
During the 1800s, Olallo cared for the sick and needy. More than a century after his death, he was credited with a miracle in 1999 when a 3-year-old girl dying of cancer recovered after her family prayed to the friar.
"He was a humble saint full of love who lived for the poor," a follower said at Saturday's ceremony, during which a large image of Olallo was unveiled and his remains were taken in a procession to the altar.
The parade passed along a street that the local government named after Olallo in 1901, two years after his death.
Olallo was born February 12, 1820, in Havana. As a young man he joined the San Juan de Dios Brothers Order, which served the sick and poor.
When he was 15, he was appointed to the San Juan de Dios Hospital in eastern Camaguey province. With a solid medical training, he performed surgeries and dispensed medicine, the state-run Cuban News Agency reported.
On November 27, 1999, the Hospitable Order of the San Juan de Dios Brothers founded the Friar Olallo elderly home.
Olallo's remains were transferred in 2004 from the General Cemetery to the San Juan de Dios Church, where he worked for 54 years, the state news agency said.
Saturday's festivities were the latest development in the thaw between Cuba's communist government and the Catholic Church that started in the 1990s. The high point came in January 1998, when Pope John Paul II paid a five-day visit, the first papal travel to the island.
E-mail to a friend

CNN's Shasta Darlington contributed to this report.
All About Cuba • The Roman Catholic Church