SANTIAGO, Chile (CNN) -- A strike by nearly a half million Chilean government workers ended Friday in anticipation of government approval of a 10 percent wage increase.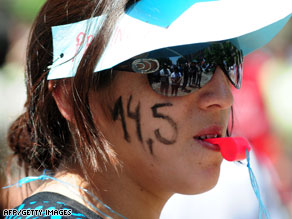 A Chilean woman demonstrates in Santiago this week with the strikers' wage-hike demand on her cheek.
Chile's Senate unanimously approved the measure Thursday and the Chamber of Deputies, Chile's lower house, was scheduled to vote on it Friday afternoon. Passage was widely expected.
Chile's minister of labor said he approves of the 10 percent increase, as does Arturo Martinez, head of the Workers Central Union, the nation's largest labor federation.
Martinez said the workers had won and pronounced himself "very satisfied."
The increase would go into effect December 10 and affect 450,000 government workers, from the president on down.
The workers, who had been on strike since Monday, had been asking for a 14.5 percent increase.
The government had initially offered a 6.5 percent increase, then upped the offer to 9.5 percent on Wednesday.
Officials then increased the offer to 10 percent after Chile's lower house rejected the 9.5 percent adjustment on Thursday.
Striking workers had taken to the streets this week, staging large protests in most of the nation's major cities.
Because of the strike, garbage piled up on streets, 18 hospitals were paralyzed and 3,000 surgeries were postponed.
Even weddings and autopsies were not performed.
E-mail to a friend

All About Chile