By Arthur Brice
CNN
(CNN) -- A man who was detained during Chile's "dirty war" in 1973 and declared dead in 1995 showed up in his old hometown very much alive last week, a human rights group in Santiago has announced.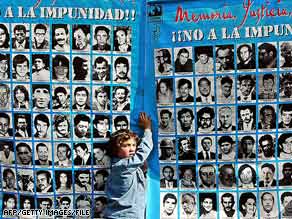 In 2004, a boy stands before a banner in Santiago that shows images of some of Chile's "disappeared."
German Rene Cofre Martinez had been living in Argentina for the past 35 years before he returned to his home in La Cisterna in Chile, said La Agrupacion de Familiares de Detenidos Desaparecidos (The Group of Relatives of Those who Disappeared While Being Detained).
The group demanded an immediate investigation, telling CNN on Tuesday that Cofre may have violated the law.
"Effectively, this gentleman was not a 'disappeared,' " said Lorena Pizarro, president of the human rights group. "This requires an investigation to see if there's evidence that he broke the law."
Cofre's wife received payments from the government because it was believed that her husband had been abducted and disappeared.
Pizarro said by telephone from Santiago that one of Cofre's three grown sons informed officials at the Ministry of the Interior's program for human rights that his father had returned last week. Pizarro said ministry officials briefed her on the matter.
Cofre told authorities at the human rights program that he went to Argentina to work and did not return because "security conditions" did not exist.
Interior Minister Carlos Gajardo is investigating.
Pizarro's group said in a news conference Monday that Cofre's actions hurt their efforts to find out what happened to loved ones who disappeared while in custody.
"In the same way that we seek the truth for [those who] disappeared while being detained, today we want that the truth be established over this event," said Mireya Garcia, a director with the group.
The news conference was shown on CNN affiliate TVN, Chile's state-run TV.
Cofre was abducted September 24, 1973, in the early days of a coup led by Gen. Augusto Pinochet, according to documents compiled by Memoria Viva, another Chilean human rights group.
The Pinochet dictatorship ruled from 1973 to 1990, after which Chile returned to civilian rule under a democratically elected government.
Government investigations conducted after Pinochet left power found that nearly 2,300 people disappeared during the dictatorship and an additional 30,000 were tortured.
Cofre was not listed as missing in an initial government report in 1991, but a medical commission identified remains as his in 1995.
In 2006, officials determined that the remains were not Cofre's, one of 48 bodies that were found to have been misidentified.
Cofre, now 65, has been living for the past 35 years in Mendoza, Argentina, where he started a second family, the human rights groups said.
His first wife died last year.
Memoria Viva, which is Spanish for "Living Memory," has compiled files on most of the known disappeared. The file for Cofre, available online, details how he was picked up by armed air force personnel from a nearby base on the morning of September 24, 1973. Pinochet had led the coup that overthrew the leftist government of elected President Salvador Allende on September 11.
Cofre, a municipal worker, was a militant member of the Communist Party, Memoria Viva says. He was 30 years old at the time and had three sons.
Cofre had gone to work, the document says, when colleagues told him that military officials were looking for him. He returned home, and around 8 a.m., 10 soldiers surrounded his house. He was taken outside and pistol-whipped after the soldiers asked him where he kept his firearms, the report says. Cofre denied having any weapons but admitted being a communist, the document says.
Officials searched his house, but it is unclear whether any weapons were found.
Cofre was then loaded onto a truck, and the two-vehicle convoy drove off.
Memoria Viva cites an eyewitness account by a neighbor, Castro Castro Perez, for the information on Cofre's abduction.
His wife went to El Bosque air base the next day, where she was told Cofre was being held. She was told that he was well, but no visitors were allowed, Memoria Viva says.
She kept trying to see him for nearly a year, until she was told in late August 1974 that he had been transferred to the public jail.
According to Memoria Viva, that was the last she heard of her husband.
But another neighbor at the time, Margarita Rivera Monsalve, says Cofre was held for only a few days and returned home for the next couple of years, La Nacion newspaper reported on its Web site Tuesday.
The newspaper quotes Rivera as saying that Cofre left for Mendoza in July 1975 "along with my husband, Fernando Aguilera Godoy, Romualdo Aguirre Pinto and another former prisoner whose last name was Coloma."
Aguilera also was a communist, La Nacion said
Reached by telephone, the newspaper said, Aguilera confirmed that he, Cofre and two others -- all of them neighbors -- left to work in Argentina in 1975 but declined to comment further.
E-mail to a friend

All About Human Rights Policy • Chile • Augusto Pinochet