From David Mattingly
CNN

PETIONVILLE, Haiti (CNN) -- Rescue officials said Monday they don't expect to find any more survivors at a Haitian school that collapsed last week, indicating efforts will now be focused on recovering bodies.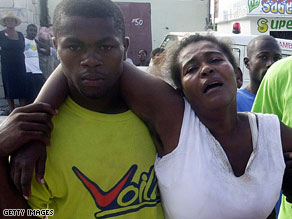 A mother anguishes over her missing child Monday near the scene of the school collapse in Petitionville.
The officials said they have done everything possible to ensure no survivors are under the rubble after the structure collapsed Friday, killing more than 90 people and injuring 150.
No one has been found alive since early Saturday at the College La Promesse Evangelique, a three-story concrete building in Petionville, a town on the outskirts of Haiti's capital of Port-au-Prince.
Rescue workers have drilled holes in the concrete and lowered cameras. A crane lifted chunks of concrete as crowds of shouting Haitians worked frantically, some forming a line to tug a rope tied to huge pieces of fallen concrete.
Relatives stood by, clutching pictures of their children and reciting prayers. Hundreds of others watched the hectic scene.

Watch protesters, rescue efforts »
About 700 people were on school grounds at the time of the collapse, said Abel Nazaire, deputy coordinator of Risk and Disaster Management in Port-au-Prince.
But Andre LeClerc, a U.N. spokesman at the scene, estimated that as few as 250 people were inside at 10 a.m. Friday, which means that the number of people unaccounted for may be far fewer than the 100 to 200 people once feared trapped. Officials said 150 were injured in the collapse.
The school's owner, Fortin Augustin, was being questioned by Haitian authorities, said Alta Jean-Baptiste, director of the Caribbean nation's Civil Protection Bureau. Augustin turned himself in but has not been charged, said Garry Desrosier, a police spokesman.
Many have said poor construction was to blame for the building's collapse. Haitian President Rene Preval said the structure was "really weak" and called for a review of construction guidelines.
"When you build a building, an engineer should know how much material it takes to build and how many people the building can hold," said Tanis Emmanuel, father of one of the students.
Many of the 150 injured -- most of whom were between 10 and 20 years old -- suffered deep cuts and broken bones.
E-mail to a friend

All About Haiti • Port-au-Prince