From David Mattingly
CNN

PETIONVILLE, Haiti (CNN) -- Frantic relatives of people believed trapped in the rubble of a collapsed school picked at the ruins with shovels and hammers Sunday before being pushed back by police amid new safety concerns.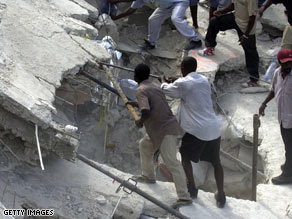 Rescue workers try to pry up large chunks of concrete as they search for victims Sunday in Petionville, Haiti.
U.S. and French rescue teams raised alarms that vibration from power generators could cause pieces of concrete at the site to shake loose and fall from the damaged hillside structure, causing more casualties. But when the teams pulled back from the scene Sunday, families, volunteers and firefighters moved in on their own, forcing police to step in and move them back.
An unknown number of people remained trapped in the wreckage of the College La Promesse Evangelique. At least 84 people have been reported killed and another 150 injured when the three-story building collapsed Friday during a celebration of the school's birthday.
About 700 people were on school grounds at the time of the collapse, said Abel Nazaire, deputy coordinator of Risk and Disaster Management in Port-au-Prince, Haiti. But Andre LeClerc, a U.N. spokesman at the scene Sunday evening, estimated that as few as 250 people may have been inside when the disaster struck -- meaning the number of people still unaccounted for may be a fraction of the 100-200 people once feared trapped.
The school's owner, Fortin Augustin, was being questioned by Haitian authorities Sunday, said Alta Jean-Baptiste, director of the Caribbean nation's Civil Protection Bureau. Augustin turned himself in, but has not been charged, said Garry Desrosier, a police spokesman.

Watch as a CNN reporter describes the scene »
The building in Petionville, on the outskirts of the Haitian capital, collapsed about 10 a.m. Friday. Some students were attending class and others played outside, Nazaire said. No survivors have been found or signs of life detected since noon Saturday.
Family members mostly have stood by during the rescue effort, clutching pictures of their children and mouthing prayers as teams slowly picked through the pieces. Hundreds of others watched from nearby rooftops.
Most of the students ranged in age from 10 to 20, officials said, but some are younger.

Watch how the search for survivors can be painful »
Haitian President Rene Preval said the structure was "really weak" and called for a review of construction guidelines.
On Saturday, rescue crews pulled out several children alive, prompting cheers and reviving hope among the anxious parents. But rescuers also found the bodies of 20 children and their teacher in a classroom.
"Throughout history, there's been people found 48, 72 hours later -- still alive, in good shape," said Michael Istvan of the U.S. Agency for International Development, one of several agencies helping with the recovery effort.
Rescue workers punched holes in the concrete and sent down cameras looking for signs of life. A crane lifted chunks of concrete, while dogs were brought in to help with the recovery effort.
E-mail to a friend

All About Haiti • Port-au-Prince