MEXICO CITY, Mexico (CNN) -- Mexican Interior Minister Juan Camilo Mourino and two other top government officials were among eight people killed Tuesday when their small plane crashed in central Mexico City, President Felipe Calderon told the nation.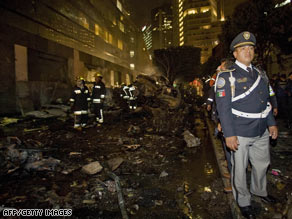 Firefighters at the site of where a plane crashed in Mexico City on Tuesday.
Also killed were former Deputy Attorney General Josi Luis Santiago Vasconcelos and Miguel Monterubio Cubas, the director of social communication, Calderon said.
Forty people on the ground were injured, said government spokesman Marcelo Ebrard. All eight fatalities were passengers and crew from the plane, the spokesman said.
No cause for the crash was immediately given, but Calderon said the results of the investigation would be revealed.
"My deepest condolences to the families of the victims and I offer my support during this time," Calderon said in the televised address.
Mourino, he said, "was one of my closest colleagues and one of my best friends. ... With his death, Mexico loses a great Mexican."
The plane was traveling from the north-central city of San Luis Potosi to Mexico City, Calderon said.
Air controller Angel Iturbe told Mexican news agency Notimex that when the aircraft left San Luis Potosi, the pilot reported an emergency but did not say what it was before losing communication.
About 15 cars on the ground were burned, news reports said.
E-mail to a friend

All About Mexico