From CNN's Simon Hooper
(CNN) -- On the eve of the U.S. presidential election, CNN.com International speaks to two families from opposite sides of the political divide about their hopes, expectations, concerns and fears for the election and the next four years.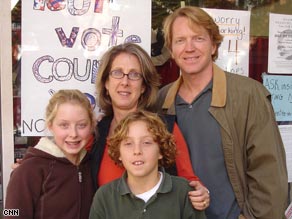 The Armstrong family believes Barack Obama will restore the tarnished reputation of the country abroad.
The Armstrongs
Andrea and Richard Armstrong live in Charlottesville, Virginia with their two children, Emma, 12, and Teddy, 10. The couple both work as attorneys and the whole family are enthused at the prospect of an Obama presidency.
"For me the race issue is very important," says Andrea. "He is so representative of the moment. Here is this man who is black, he grew up in Indonesia and Hawaii. He is what we need as the face of our nation."
"I go to school with a lot of friends who are African-American and just for them to see that Obama can be president is good because it shows them anyone can be president," says Teddy.
With Americans facing economic uncertainty, Richard believes Obama has the leadership abilities to steer the country to better times. "He seems like he's got the persona, the intellect and the stature to make it through what is going to be a very dark period," he says.

Can Obama close the deal? »
Although Charlottesville is a prosperous college town, the couple say the effects of the economic crisis are being felt locally. "A friend just lost his job. People we know who have businesses are really frightened. Everything is so stagnant. There's a lot of things shutting down," says Andrea.
The couple admit they're "embarrassed" by the damage that U.S. foreign policy under President George W. Bush -- particularly the invasion of Iraq -- has done to the reputation of their country.
"Bush has been an embarrassment from the first day and it's only gotten worse," says Andrea. "When did we become such a laughing stock? When did we lose our stature? It's very important how we go forward and represent ourselves in the world. What a bad reputation we now have."
The couple would also like to see a universal national healthcare scheme rolled out, with Richard calling the fact that so many Americans lack health insurance "an outrage in a civilized society."
"I am shocked by how many people I know who don't have healthcare," says Andrea. "You can't be without healthcare cover in this country. First of all, because you won't get the care you need and second because you'll just bankrupt yourself."
Living in a predominantly Democratic neighborhood, the family have been regular volunteers at the local Obama campaign headquarters, making phone calls, recruiting new voters, canvassing and packaging up leaflets. "It's meant a lot to us as a family," says Andrea.

Watch more about the last minute campaigning »
"Everybody in there is really different but we are all working towards the same thing. They always seem really happy to see you," says Emma. "They don't treat you like little kids -- they give you important jobs to do," says Teddy.
Andrea has seen a shift among swing voters towards the Democrats during the campaign. Richard says his father, a moderate Republican who usually votes on national security issues, is even voting for Obama because he dislikes Sarah Palin.
"Right after they picked her and John McCain got that bump (in the polls) we just looked at it with dread," says Richard. "But the more people got to know her the more she's detracted from McCain."
"How could you take anybody seriously who winks in a debate? Somehow she is on the national stage making faces," says Andrea. "They thought women would vote for her just because she is a woman. That's not giving the women of America much credit."
Emma says her classmates at school are mainly Democratic. "We talk about politics a lot. My school has about 70 people and out of those people there are about 10 Republicans. I assume they feel really alienated."
As a lifelong Democrat, Andrea says it is exciting to see the party "get its wheels turning properly" after the election defeats of 2000 and 2004.
But the couple are taking nothing for granted and admit they are "scared to death" by the thought that Obama might not win. "Everybody who remembers 2000 knows that bad things can happen," says Richard. "It's just a case of let's get this one in the bag and get it over with."
The Pearsons
Jennifer and Sonny Pearson live in Fredericksburg, Virginia, with their two youngest children, Matthew, 17, and Mary, 15. Jennifer is a self-employed tax accountant. Sonny, a Navy veteran, is studying IT, having previously worked in cable installation.
As an accountant, Jennifer is already seeing the impact of the economic crisis in their blue collar neighborhood. She fears her business will be hit as clients choose to save money by doing their own tax returns. Local house prices have fallen by 50 percent and several properties are up for auction.
"It's the average guys who are affected, not the ones who can go and get a Harvard education," she says. "It's the guys who can swing a hammer or lay a wire and now they're losing their businesses and their homes. It's terrible."
The couple fear a Barack Obama presidency will mean steep tax rises for the average family. They believe tax cuts, and government belt-tightening, are needed to kick start the economy.

Watch Sarah Palin on Obama's tax plans »
"The less you've got government involved in how people run their lives the better," says Sonny. "I would be willing to put good money on the fact that if Obama gets elected within six months we are going to be in a very deep depression."
National security is another priority. "It's a huge issue," says Sonny. "Bad guys are real, evil exists and they are looking for opportunities."
They have supported the war effort in Iraq and believe U.S. troops should stay as long as it takes to get the job done -- something they believe John McCain has the leadership skills to achieve -- and fear fresh terrorist attacks on U.S. soil if Obama is elected.
One of the couple's older children was in high school a mile from the Pentagon on 9/11 so the "War on Terror" is an issue close to home they say.
"McCain wants to win in Iraq and get us out of there honorably," says Jennifer. "The American people just need to suck it up and recognize that we've lost fewer men there in a year than we lost in Vietnam in a day... We've got men and women going into very dangerous places to get rid of these terrorists and they're doing it."
Although concerned by the damage done to the United States' reputation, they believe national security is more important than popularity. "Everybody likes to be liked but at the same time I don't care if somebody doesn't like me if it's going to adversely effect my life and the lives of those people around me," says Sonny.
"I think we will get back some respect with McCain. With Obama we are just going to be destroyed," adds Jennifer.
Despite being a cancer survivor, Jennifer and her children have no health insurance. As a Navy veteran, Sonny's medical bills have been covered by a veterans' scheme since he required brain surgery for a double aneurysm.
"I don't want socialised medicine because I know too many people who've come here from Canada to get fixed because they can't get the service," says Jennifer. "I had insurance when I had cancer and I cannot tell you how many thousands of dollars we spent."
As a working mother, Jennifer respects Sarah Palin and has no qualms about her qualifications to be vice-president. "First of all, she raised five kids and that's hard," she says. "She's got better credentials than Obama. It makes no sense to me that people are down on her for being a woman."
The family are suspicious of Obama, believing he has promised far more than he can deliver. "You can't promise magic if you don't have a wand," says Sonny. "And he's got nothing to work with unless he levies some heavy taxes on everyone."
"It would be better for Obama to be an actor than a president because he just wants the fame," adds Mary.
At school, Matthew admits it's tough being a Republican. "People make a lot of jokes about the Republican Party and so everyone just ends up being liberal," he says. "I've been getting into arguments with entire classes."
E-mail to a friend

All About Barack Obama • John McCain • George W. Bush • Sarah Palin