By Karl Penhaul
CNN
BOGOTA, Colombia (CNN) -- The Colombian military said Wednesday it had fired 27 soldiers, including generals and colonels, in an investigation into the army's role into the killings of at least 11 men who disappeared from a poor Bogota suburb this year.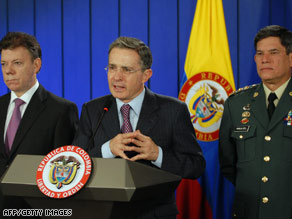 President Alvaro Uribe talks Wednesday between defense chief Juan Manuel Santos, left, and Gen. Freddy Padilla.
The firings marked the biggest one-day purge of military ranks for human rights abuses, according to former Defense Minister Rafael Pardo.
The investigation began in September after the bodies of at least 11 young men from Bogota's Soacha neighborhood were found in a mass grave in Norte de Santander province in northeast Colombia.
The men's families had reported them missing earlier this year, some as long ago as January.
The military reported at that time that the men were members of either leftist rebel groups or right-wing death squads and said they had died in combat.
President Alvaro Uribe initially backed those claims, saying, "Those men weren't going to pick coffee; they went with a criminal purpose."
Carmenza Gomez's 23-year-old son, Victor Fernando Gomez, was among the victims.
"He disappeared August 23 and on the 25th they delivered him to the morgue in Ocana at 10 a.m. and supposedly he was a guerrilla fighter," she said, noting that the body was found about 500 miles (805 kilometers) northeast of the capital.
Wednesday's shake-up marked an official turnaround. The government said some of the 25 soldiers may be negligent because they allowed criminals to act with impunity, while others may have committed the acts themselves.
None of the 25 has been charged formally with a crime, but the president did not rule out arrests and jail sentences during the course of the investigation. Civilian investigators, not military authorities, are investigating the killings, Uribe said.
The Colombian government did not provide specifics as to how they believe the 25 soldiers were involved with the deaths.
Armed forces chief Gen. Freddy Padilla made the televised announcement Wednesday morning, flanked by Uribe and Defense Minister Juan Manuel Santos.
Uribe sought to portray the shake-up as a sign of his government's commitment to full respect for human rights by the armed forces.
Among those axed were top officers, including a two-star general, or major-general, and two one-star generals, or brigadier generals. Two of the generals were division commanders. The third was a brigade commander.
Four full colonels, including three brigade commanders, and seven lieutenant colonels also were dismissed, along with three majors, a captain and a lieutenant. The remainder were senior noncommissioned officers.
"The good name and prestige of the armed forces cannot be stained by the crimes and administrative faults committed by some of its members," Uribe said.
Human rights groups have long accused the military of killing innocent civilians and presenting them as dead rebel fighters, a practice Colombian rights groups term "false positives" and that international organizations call "extrajudicial killings."
Uribe insisted forced disappearances and extrajudicial killings were not an official policy of his government's nationwide counterinsurgency strategy known as "democratic security." The strategy has drawn heavy criticism at home and abroad for being heavy-handed.
But former government ministers and international human rights groups said the current investigation into forced disappearances and extrajudicial killings by the military may be only the tip of the iceberg.
In a study published this year, the U.N. Office of the High Commissioner for Human Rights in Colombia said it "received reports of multiple cases of violation of the right to life through extrajudicial executions. Throughout the year there was a significant increase in reports of crimes of this kind attributed to members of the security forces, especially members of the army and the police."
The report added, "In the majority of these cases, repeating the pattern of previous years, the murder victims were presented as members of guerrilla groups or other illegal armed groups who had been shot in combat."
A U.N. source said it receives between 200 and 300 complaints per year about allegations of forced disappearances and summary executions allegedly committed by the police or army.
The United States, under a counterinsurgency and counternarcotics program called Plan Colombia, has pumped more than $5 billion in mostly military aid to the Colombian government since 2000.
The U.S. government said it has tried to impose greater respect for human rights in the Colombian military in return for receiving continued aid.
E-mail to a friend

CNN's Fernando Ramos contributed to this report.
All About Colombia • Alvaro Uribe