(CNN) -- Mexican authorities have arrested a reputed senior member of a major Tijuana-based drug cartel after a shootout, U.S. authorities confirmed Sunday.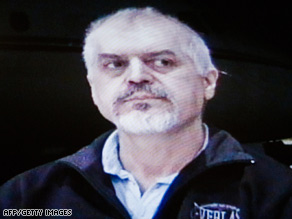 Eduardo Arellano-Felix was arrested in Tijuana, Mexico, on Saturday.
Eduardo Arellano-Felix was arrested at a Tijuana, Mexico, residence Saturday, said Special Agent Eileen Zeidler of the U.S. Drug Enforcement Administration office in San Diego, California.
She said federal authorities received a tip on the whereabouts of Arellano-Felix and provided the information to Mexican authorities.
No other details were immediately available.
Arellano-Felix was one of the last wanted members of the powerful and brutal trafficking organization bearing his family name, authorities say.
His brother, reputed Mexican drug lord Javier Arellano-Felix, was captured by U.S. authorities in August 2006 off the shore of southern Baja California. The brothers were on the top of the DEA's Most Wanted List, carrying rewards of $5 million dollars for their capture.
Officials say seven brothers and four sisters of the Arellano-Felix family inherited the Tijuana cartel from Miguel Angel Felix Gallardo in 1989 after his arrest for drug trafficking. Eduardo was the last remaining brother who had an active role in the cartel.
Today, the notorious cartel is split into two factions -- one headed by Eduardo Garcia Simental and another headed by Eduardo Arellano-Felix's nephew, Fernando Sanchez Arellano.
The two sides have engaged in brutal fighting, accounting for nearly all the violence in Tijuana, according to the DEA. More than 400 people have been killed in drug-related violence in Tijuana this year.
While Eduardo Arellano-Felix was not the boss of the cartel, DEA officials said his nephew sought his advice on decisions.
Zeidler said the arrest of Arellano-Felix was a significant step in potentially dismantling the cartel.
"You pull the foundation out of the house and the house is going to come down," she said. "[Arellano-Felix] was the foundation."
E-mail to a friend

All About Illegal Drugs • Drug Trafficking • Mexico