MIAMI, Florida (CNN) -- Mexico had storms off both coasts late Monday night, with Hurricane Norbert forming off its western coast and Tropical Storm Marco menacing its eastern coast.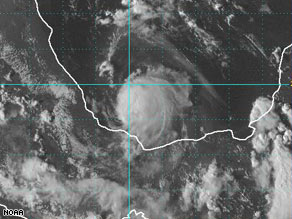 Tropical Storm Marco is just off the coast of Mexico, with sustained winds of 65 mph.
The more immediate problem is Marco.

The tropical storm churned near the eastern coast of Mexico late Monday and is expected to make landfall in the overnight hours, forecasters said.
A tropical depression that formed Monday afternoon in the Bay of Campeche strengthened hours later into Marco, the National Hurricane Center said.
A hurricane watch is in effect for the Gulf Coast of Mexico from Cabo Rojo southward to Veracruz. A tropical storm warning remains in effect from Cabo Rojo southward to Punta el Lagarto.
In anticipation of the storm, Mexico's state-owned oil company, Pemex, decided to evacuate 33 workers from four oil platforms at sea. It also closed six oil wells and took other steps to guard against possible damage, the company said.
Marco's maximum sustained winds were near 65 mph with higher gusts.

"Some strengthening is possible during the next 24 hours and Marco could approach hurricane strength as it nears the coast," forecasters said.
As of 11 p.m. ET, the center of Marco was located about 65 miles (105 km) northeast of Veracruz and about 155 miles (250 km) east-southeast of Tuxpan, forecasters said. It was moving west-northwest at near 7 mph and was expected to continue doing so over the next day.
"On the forecast track, the center will be near the coast of Mexico within the warning area early Tuesday," according to the hurricane center.
A hurricane watch means that hurricane conditions are possible within the watch area, in this case within the next 24 hours.
A tropical storm warning means that tropical storm conditions are expected within the warning area within the next 24 hours.
Marco was relatively small, however, with tropical storm-force winds extending up to 30 miles (45 km) from its center.
The storm is expected to dump up to six inches of rain across the Mexican states of Veracruz, Puebla, Hildalgo and San Luis Potosi.
The Atlantic hurricane season began on June 1 and ends on November 30.

Meanwhile, Hurricane Norbert formed off the western coast of Mexico late Monday, the National Hurricane Center reported.
The Category 1 storm, with its 75 mph winds, was centered about 315 miles (510 km) south-southwest of Manzanillo, Mexico, and was tracking toward the west-northwest at about 8 mph.
Norbert is expected to continue this general motion over the next couple of days, before making a swing to the northeast, the five-day forecast map from the hurricane center shows.
The current forecast map shows Hurricane Norbert possibly making landfall along the southern Baja Peninsula on Saturday evening, but hurricane forecasts are unpredictable and can change considerably.
E-mail to a friend

All About National Hurricane Center • Mexico