BOGOTA, Colombia (CNN) -- Blanca Nubia Monroy's son said he would not be gone long.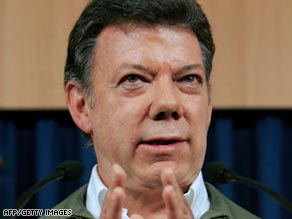 Defense Minister Juan Manuel Santos has expressed doubts about a military commander's version of events.
He left his mother's house one Sunday in March, she said, saying he needed to talk with a man about work but that he would be back for dinner.
Monroy never saw her son alive again.
When he and 20 other young men turned up dead in a common grave in the mountains of Colombia, a military commander said they had been killed in clashes with the army.
Yet relatives say they have struggled for months to understand the circumstances that led to the deaths in and around Ocana, roughly 800 kilometers (500 miles) northeast of Bogota.
Now the Colombian Defense Ministry has raised doubts about the official version of events. And prosecutors are investigating to determine whether the men were executed.
"January 3rd was the last time that I saw my son alive," said Flor Hernandez, the mother of another of the young men who died.
She sobbed as she told reporters a similar story as Monroy -- that her 25-year-old son left her home one day, to go back to his home, and that she never saw him alive again.
A military commander, Paulino Coronado, said the 21 men whose bodies were found in a common grave were killed in clashes with the military in Colombia, a country riven by more than 40 years of grinding war involving government troops, leftist rebels and right-wing paramilitaries.
Tens of thousands of people have died, including an untold number of civilians.
Defense Minister Juan Manuel Santos has expressed doubts about Coronado's version of events. He noted that troops delivered the bodies to a morgue, saying they had been killed in combat, shortly after relatives reported them missing.
"In no case is the date of their reported disappearance and the date of their delivery to the morgue more than four days. In some cases, it happened the day after -- something that seemed curious to us," he said. "It's all part of the investigation."
The defense minister has asked prosecutors and the Colombian Army's inspector general to investigate the deaths.
Monroy, meanwhile, is speaking out about what happened to her 19-year-old son. She told La F.M., a Colombian radio station, that she wants answers.
"It's injustice what was done to those young men," she said.
E-mail to a friend

CNN's Fernando Ramos contributed to this report.
All About Colombia