From Gloria Carrasco
Journalist
LA PAZ, Bolivia (CNN) -- Bolivian President Evo Morales called Wednesday for the U.S. ambassador to be expelled for allegedly encouraging anti-government protesters.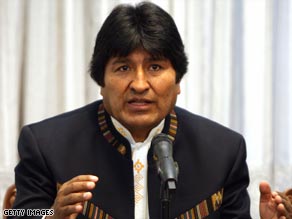 Bolivian President Evo Morales faces protests in the eastern part of his country.
"Without fear of anyone, without fear of the empire, today before you, before the Bolivian people, I declare the ambassador of the United States persona non grata," he said of Ambassador Philip Goldberg in a nationally televised speech from the presidential palace.
"I ask the foreign minister to find the legal and diplomatic framework to return him urgently to his country. We do not want separatists, divisionists, people who conspire against the unity. We do not want people who work against democracy."
A State Department spokesman called Morales' assertion that Goldberg had encouraged anti-government protests "baseless."
"We have seen the press reports of President Morales's remarks," spokesman Godon Duguid told reporters. "Normally such messages are delivered though diplomatic channels. Our embassy has not received any such message through diplomatic channels. We are trying to confirm if that is forthcoming."
For the past two weeks, demonstrators in the country's richer eastern lowlands have protested Morales' plans to redistribute the country's natural gas revenues.
On Wednesday, opposition groups in the city of Tarija took to the streets, seizing the national customs buildings and the telecommunications company.
E-mail to a friend

CNN's Charley Keyes contributed to this report.
All About Evo Morales • Bolivia