MEXICO CITY, Mexico (CNN) -- Federal officers rescued two kidnap victims and arrested 20 members of a major kidnapping gang in a daring operation Tuesday near Mexico City, Mexican federal police said.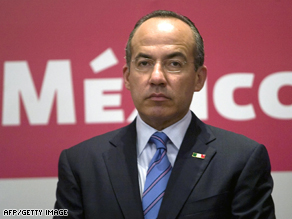 Mexican President Felipe Calderon has noted that kidnappings have reached an alarming level.
The arrests, which included the leader of what authorities said was a top kidnapping gang in the country, comes about two weeks after Mexican President Felipe Calderon met with the country's 32 governors to create a plan to combat the nation's staggering rise in kidnappings.
The operation occurred Tuesday morning at a location in the city of Villa Nicolas Romero, police said. Authorities rescued a 49-year-old mother and her 30-year-old son who were missing for a week. Officers killed four suspected gang members in a shootout, police said.
During the gunbattle one federal officer was also killed, police said.
Police said they arrested alleged gang leader Lazaro Bustos Abarca and confiscated several assault rifles and other ammunition.

Watch a Mexican kidnapping victim describe his ordeal »
Last month Calderon, Mexico's president, unveiled a plan to combat a surge in kidnappings in the country at a meeting with other leaders.

Watch marches at more than 70 cities protesting rise in kidnappings »
The plan included building special prisons exclusively for kidnappers, bolstering the justice system, cleaning up corrupt police forces, clamping down on kidnapping tools such as prepaid cell phones and money laundering.
Calderon noted at the meeting that kidnappings had reached an alarming level.
Nongovernmental groups estimate that there have been more than 1,500 killings in Mexico this year linked to organized crime.
E-mail to a friend