Editor's note: Fareed Zakaria is a preeminent foreign affairs analyst and hosts "Fareed Zakaria: GPS" on CNN at 1 p.m. ET Sunday.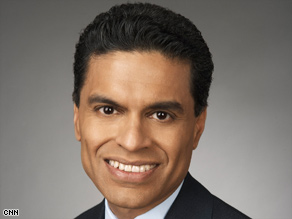 Fareed Zakaria says it's a sign of strength that U.S. economic problems haven't triggered a global recession.
NEW YORK (CNN) -- Between the mortgage crisis, record high oil prices and a lackluster stock market, Americans are not exactly confident about the economy. CNN spoke with world affairs analyst and author Fareed Zakaria about his view of the situation.
CNN: How bad is the U.S. economy right now?
Zakaria: It almost looks like a perfect storm. We have a collapsing housing market, weak consumer spending and a credit crisis that has kept banks reluctant to extend credit easily. Plus, food and fuel prices are soaring.
It's actually a sign of the strength of the American and global economy that we're not in a big global recession given all of this. But it's not going to get better fast.
CNN: So, we're not past the worst yet?
Zakaria: Look I'm not a trained economist but I had three of the best on the show this week -- Larry Summers (Treasury Secretary for Bill Clinton) Jeff Sachs (Director of UN Millennium Project), and Paul Krugman (op-ed columnist on economy for The New York Times).
Barack Obama Interview
Fareed Zakaria interviews Barack Obama this week on Fareed Zarkaria GPS.
Sunday 1pm ET
And they all agreed that it was unlikely that we had worked through most of the problems in the economy. They felt we seemed to have avoided the worst of the financial crisis but that now the real economy was beginning to show the signs of pain -- housing was going to keep declining, the consumer would scale back and companies would cut their workforces.
CNN: So what should the next president do?
Zakaria: Larry Summers and Paul Krugman suggested another fiscal stimulus, focused on infrastructure spending. They both argued that shoring up the economy was crucial and that the dangers of inflation -- with high oil and food prices -- were still not that great.
Sachs had an intriguing position: that we were going to take all these heroic measures to shore up the economy but a recession has to come anyway. What we need to focus on is the long-term problems that have accumulated: we save too little, spend and borrow too much, and over-consume fossil fuels.
If we just prop up the housing and credit markets one more time, this will delay once more, dealing with the long-term problem.
CNN: But doesn't a president have to focus on the short-term?
Zakaria: Well, Sachs made an interesting analogy in the green room. He said, if Obama gets elected he would advise him not to declare war on this recession. "This is Bush's recession," he said.
His advice: Look at Ronald Reagan. He took the economic pain of an early recession in 1981-82, let the Fed wring inflation out of the system, and then as his economic policies came into effect got the benefit of being credited with the rebound.
He argues that this is the moment to focus on the long-term problems that will hobble the U.S. economy.
CNN: This did not seem to be a cheery discussion.
Zakaria: They don't call it the dismal science for nothing.
E-mail to a friend

All About National Economy