From Carolina Cayazzo
CNN

BUENOS AIRES, Argentina (CNN) -- Disagreements between the Argentine government and farmers over export taxes flared up Wednesday as drivers used their trucks to snarl traffic.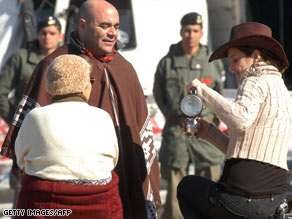 Farmers drink mate tea at a blockade where they are demonstrating against export taxes.
In the central cities of Cordoba and Santa Fe, cereal trucks blocked the paths of vehicles carrying milk, meat, fuel and chemicals used in farming.
Leaders of the nation's major farming and cattle groups condemned the actions, warning that they could result in food shortages.
The impact of the blockades was evident Wednesday in Buenos Aires' cereal market, where futures trading was upset, according to operators.
At the market in Liniers, on the edge of Buenos Aires, only 4,600 head of cattle entered Wednesday, far below the normal 12,000 animals.
The blockades are just the latest in a series of strikes, including one that lasted three weeks, that have snarled traffic and resulted in food shortages.
The conflict began March 11, when President Cristina Fernandez de Kirchner instituted a 44 percent tax on the export of soybeans.
The tax also applies to wheat, corn and sunflower seed.
Argentina is the world's second-largest corn exporter and its third-largest soybean exporter.
Farmers contend that they are being unfairly forced to pay for the redistribution of wealth, especially since they were the ones who spearheaded the nation's recovery from economic collapse from 2001 to 2002.
Analysts and economists agree that the farm crisis has cooled an economy that had been showing solid growth.
Fernandez argued that the tax pays for government increases in seniors' pensions and help for the poor. She rejected the farmers' demand for a repeal of the export tax as "extortion."
On Wednesday, a group of farmers said they delivered 1 million signatures to Congress to press for legislation that would cut the withholding tax and the export tax on grains.
The government resisted the efforts.
"It has been clearly shown that they have no intention of solving this problem," Minister of Interior Florencio Randazzo said.
"We are always open to dialogue, but it has to be understood that the government is not going to accept the imposition of any sector, most of all when the imposition of the decision of that sector attacks the Argentine people," he said.
E-mail to a friend

All About Argentina • Cristina Fernandez de Kirchner