HARARE, Zimbabwe (CNN) -- A High Court judge in Zimbabwe on Wednesday ordered the unconditional release of 23 human rights activists and members of the opposition -- including a 2-year-old -- who had been abducted by secret agents.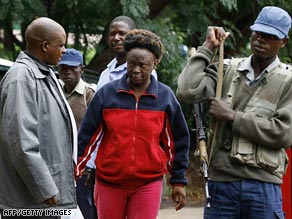 Human rights activist Jestina Mukoko arrives at court in Harare, Zimbabwe, on Wednesday.
But nine other activists, including Jestina Mukoko, a director of the Zimbabwe Peace Project who was abducted from her home three weeks ago, were released only to a medical clinic for treatment because of alleged torture, the activists' attorney, Beatrice Mtetwa, told journalists outside the court.
"There are allegations that they have been tortured," she said. "They were being blindfolded before they were taken to the police [when the torture took place]."
Zimbabwean opposition leaders in the past have accused the state agents of torturing people to make false confessions.
The state-run Herald newspaper said Mukoko and the others face charges of attempting to recruit people for military training to overthrow President Robert Mugabe's government. The newspaper cited a police statement as its source.
Mukoko and the other activists will appear in a magistrate court on Monday from the clinic to face their charges. They could face the death penalty.
"[They will be] under police guard, where they should be accorded full access to their legal practitioners, relatives," High Court Judge Yunus Omarjee's ruling said.
The opposition Movement for Democratic Change denies that the activists were working to overthrow the government and says that the charges are a prelude to Mugabe's declaring a state of emergency.
Omarjee ordered the unconditional release of 12 activists, as well as of another group of 11 whose whereabouts were unknown, Mtetwa said.
Mukoko had been missing since she was taken from her home on December 3. The Zimbabwean High Court ordered police to search for her after her lawyers, the MDC and Amnesty International all expressed concern about her, the Herald said.
The paper did not say when, where or how she was found.
Members of Zimbabwe Lawyers for Human Rights protested in the streets last week to highlight her disappearance, and the MDC threatened to break off power-sharing talks with the government if she and other abducted MDC supporters were not released.
The 2-year-old boy was abducted in October, along with his parents, who were held in a separate location. The boy, held by his mother in court, cried when he saw his father, Mtetwa said.
Zimbabwe, once a breadbasket of Africa, has slid into increasing chaos under the long rule of Mugabe, who has led the country since 1980. A chorus of international leaders, including U.S. President George W. Bush, has called for him to step down amid a cholera epidemic, widespread hunger, hyperinflation and a political crisis that has dragged on for most of the year.
E-mail to a friend

All About Zimbabwe • Robert Mugabe
All About Robert Mugabe • Zimbabwe