HARARE, Zimbabwe (CNN) -- The man who would be Zimbabwe's prime minister under a power-sharing pact said Friday his party will withdraw from efforts to implement the unity government unless 42 abducted members of his party are freed by New Year's Day.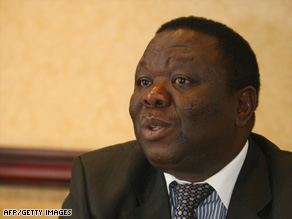 Opposition leader Morgan Tsvangirai speaks Friday in Botswana, which has given him political refuge.
The threat comes as President Mugabe apologized to Zimbabweans for the economic crisis that led Zimbabwe's central bank on Friday to introduce a $10 billion note worth less than $20 in U.S. currency.
Opposition leader Morgan Tsvangirai said Mugabe and his ZANU-PF party have "willfully and repeatedly broken the letter and the spirit" of the agreement signed in September, while his Movement for Democratic Change, or MDC, party has "shown patience, political maturity and willingness to make significant concessions."
"The regime is conducting a deliberate and targeted national terror campaign to undermine the MDC's support within Zimbabwe and the work of the pro-democracy and human rights organizations," Tsvangirai said in a speech delivered Friday in Gaborone, Botswana.

Watch a report on Zimbabwe's political crisis »
Tsvangirai said unless the kidnappings end and all 42 abductees are either released or brought to court to face formal charges by January 1, he would ask his party's national council to suspend all talks and contact with ZANU-PF.

Watch Mugabe's defiance at calls for him to step down »
"The MDC can no longer sit at the same negotiating table with a party that is abducting our members and other innocent civilians and refusing to produce any of them before a court of law," he said.
Mugabe, in a speech to his party Thursday, apologized for the problems faced by Zimbabweans, but he insisted his ailing nation has turned a corner in its fight against its worst humanitarian crisis, according to the state-owned Herald newspaper.
Shortages of most essentials such as electricity, fuel, medicine and food have become common in Zimbabwe. These problems have forced many people to flee the country.

Watch as Zimbabweans wait in long lines seeking asylum »
The Herald quoted Mugabe as saying he was optimistic that he would make efforts to resuscitate the power-sharing deal he signed with Tsvangirai in September.
"We will be inviting the two leaders -- Mr. Morgan Tsvangirai and Professor Arthur Mutambara -- to come and discuss the way forward," Mugabe said.
The deal is yet to take effect as Tsvangirai blames Mugabe for grabbing all key ministries such as home affairs, local government, finance, home affairs, information and defense.
The power-sharing deal signed three months ago stipulated that ZANU-PF would have 15 ministers in the council and the MDC would have 13. Mutambara's MDC splinter group would have three.
Once one of Africa's most promising economies, Zimbabwe is reeling under its worst humanitarian and economic crisis. A cholera outbreak has killed more than 1,000 Zimbabweans since August, forcing hundreds to cross the border into South Africa and Botswana to seek treatment.
The United Nations said 5 million people are in need of food aid in a nation that once exported food to its neighbors.
British Prime Minister Gordon Brown on Friday called the situation in the cholera-stricken country a tragedy and urged African leaders to help get humanitarian aid into the Zimbabwe.
Brown said the "antiquated methods" that Zimbabwe uses to treat the outbreak won't bring an end to the suffering.
"We are dealing with the failure of a regime with no proper sewage and water systems, no proper health care systems," Brown said at his monthly news conference. "We've got hospitals that are lying empty when they could be serving the people of Zimbabwe."
Brown also lamented the failure of the U.N. Security Council to pass a resolution that would have imposed sanctions on Mugabe and members of his government. China and Russia vetoed the resolution.
"Global problems need global answers and global means of acting," Brown said, "and if the world is not prepared for many of the events that have happened to it, it is because we have institutions that were created in the 1940s that are not fit for the task in 2008."
Mugabe said Western nations and neighboring Botswana were against the formation of an inclusive government in Zimbabwe.
Botswana, which shares a border with Zimbabwe, has given Tsvangirai refuge from the political turmoil in recent weeks.
"Botswana is making some stupid noises. They are just hollow noises to assure the MDC that the Botswana government supports it and also in response to Britain and America that Botswana is a good mouthpiece of the white men," Mugabe said.
On cholera, Mugabe said the country was failing to import adequate water-treating chemicals because of sanctions imposed by the West.
Zimbabwe banks opened Friday with a new $10 billion note to give out to people who camped out overnight at their doors to make withdrawals. While it sounds like a lot of money, the new note is expected to buy just 20 loaves of bread. Its release comes a week after Zimbabwe issued a $500 million note to ease a cash shortage.
Reserve Bank of Zimbabwe Gov. Gideon Gono said the $10 billion note was being introduced for the "convenience of the public ahead of the festive season."
The U.S. dollar traded Thursday for about 600 million Zimbabwe dollars, but the hyperinflation is expected to continue.
The country has slashed zeros from the amount of its worthless currency over the past two years -- the latest being 10 zeros in August.
E-mail to a friend

All About Zimbabwe • Robert Mugabe • Morgan Tsvangirai