From Barbara Starr and Elise Labott
CNN
WASHINGTON (CNN) -- The Pentagon is looking at options, but there are no plans for U.S. forces to go ashore in pursuit of pirates in Somalia, a spokesman for the Joint Chiefs of Staff said Friday.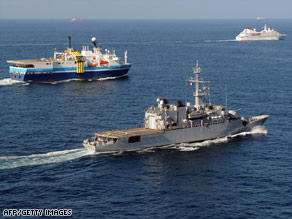 A French frigate, center, escorts ships off the coast of Djibouti to protect them from piracy last month.
Adm. Mike Mullen, the chairman of the U.S. Joint Chiefs of Staff, recently asked the military to look at "what options and alternatives are available from a purely military perspective" to deal with piracy off the coast of Somalia, Capt. John Kirby told CNN.
Pentagon officials are shying away from a direct endorsement of a proposal the United States is circulating at the U.N. Security Council that calls for countries to "take all necessary measures ashore in Somalia, including in its airspace," to counter piracy.
However, Kirby said the Pentagon is not doing any planning to launch attacks against pirates on land or in the air.
"We are not looking at how to implement the resolution," Kirby said.
The developments come after Somali pirates released a Greek chemical tanker they have held since October, a piracy monitor said Saturday.
"The MV Action was released by pirates," said Andrew Mwangura, head of the Seafarers Assistance Program in Mombasa, Kenya. "She is currently limping to safe waters, [and] it is feared that three crew members lost their lives under questionable circumstances."
Circumstances of the release were not immediately known.
Pirate attacks in the waters off Somalia have shot up this year, with pirates staging increasingly bolder attacks on ever-bigger targets. This year, pirates have attacked almost 100 vessels off Somalia's coast and hijacked nearly 40, according to the International Maritime Bureau.

Map: See where incidents have been reported »
Freight and cargo ships, cruise liners and private yachts have all come under attack. In many hijackings, pirates take the crew and passengers hostage while they demand a ransom.
Don't Miss
Pentagon spokesman Bryan Whitman said the military is still looking for an international solution to the piracy crisis. One top priority, according to U.S. military officials, is new legal measures ensuring that anybody detained by the U.S. military could be turned over to a country in the region for prosecution. That could be a meaningful new deterrent, according to the officials.
Senior U.S. officials said the United States wants a United Nations force, not a multinational force, in Somalia.
A multinational force requires manpower, resources and money that are not available right now, the officials explained. In addition, no nation has come forward to meet the requirements of a multinational force. A U.N. peacekeeping operation, the officials said, is a more realistic option.
The United States is working on text for a second U.N. resolution, which would authorize the stabilization force, two senior U.S. officials told CNN. Some countries, and the U.S. military, are having problems with the wording.
The resolution calls for a force to replace the African Union Mission in Somalia, the officials said. It would be used in Mogadishu and the surrounding areas to help stabilize the government to allow it to deal with the piracy issue.
The force would not be explicitly set up to go after pirates, according to the officials. Some countries (including the United States) have problems with the idea and are still discussing language on composition and deployment rules of engagement, according to two senior U.S. officials.
In the past, the United States has conducted air strikes in Somalia to pursue suspected al Qaeda targets. However, to go after pirates in the same manner would take a new U.N. resolution. Piracy is a criminal activity but is not considered terrorism.
E-mail to a friend