(CNN) -- Stray gunfire struck two girls at a civilian displacement camp in eastern Congo, killing one and wounding another, the U.N. refugee agency said on Friday.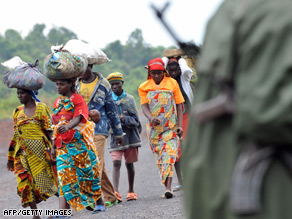 Congolese walk on a road near the front line near Kibati.
Fighting between government troops and rebels has raged near two U.N. High Commissioner for Refugees displaced persons camps in Kibati -- located in the Democratic Republic of Congo's war-ravaged North Kivu province. The warfare has prompted the displacement of 250,000 people since August.
The two girls were shot around 1 a.m. Friday, with a 5-year-old dying instantly. A 7-year-old remains alive but "is fighting for her life," said UNHCR spokesman Ron Redmond.
"It does not appear they were targeted," Redmond told CNN.
The agency also said armed men near the camps raped a woman on Thursday night.
"We remain extremely concerned for the safety of the displaced Congolese population in Kibati as the civilian character of these two UNHCR-run camps north of Goma is continually violated," the UNHCR said in a statement.
Don't Miss
The United Nations has been working to relocate the many displaced people in Kibati to other locations, including a new camp.
The U.N. Security Council recently approved sending more than 3,000 troops to bolster the 17,000-strong peacekeeping force already in the region.
The United Nations has been mediating talks between the Democratic Republic of Congo's government and its main rebel group to stop the violence.
Fighting broke out in eastern Congo at the end of August between government forces and CNDP rebels under the command of Laurent Nkunda.
It was sparked by lingering tensions over the 1994 slaughter of ethnic Tutsis by majority Hutus in neighboring Rwanda. Nkunda says his forces are fighting to defend Congolese Tutsis from Hutu militants who escaped to Congo.
Nkunda declared a unilateral cease-fire on October 29, but it failed to stop the fighting and reports of atrocities.
E-mail to a friend

CNN's Joe Sterling contributed to this report.
All About Democratic Republic of the Congo • War and Conflict • Diplomacy