From CNN's Nkepile Mabuse

JOHANNESBURG, South Africa (CNN) -- President Robert Mugabe is "out of touch" with the magnitude of the cholera crisis gripping his country and should step down, the U.S. ambassador to Zimbabwe said Thursday.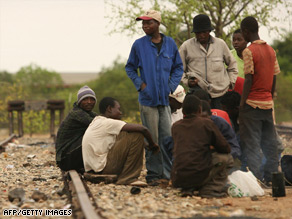 Cholera sufferers gather on the South African border after crossing over from Zimbabwe.
Ambassador James McGee pointed to calls by President George Bush and the leaders of Britain, France and several African countries for Mugabe to abandon power and let a national unity government take over to help Zimbabwe recover from the health crisis that is spilling across its borders.
"I think what we're seeing with this continued man-made humanitarian crisis, they're correct," McGee said. "It's time for Mugabe to go. He's outlived his usefulness in Zimbabwe."
Zimbabwe is in the grip of a cholera epidemic that has left nearly 800 dead, a World Health Organization official said Wednesday. In addition, its economy has collapsed under the weight of hyperinflation and its health care system is in a shambles, forcing some Zimbabweans to cross the border into South Africa for treatment.
Dr. Eric Laroche, a World Health Organization official in Harare, said the outbreak has a high fatality rate because sufferers are either not able to reach health centers in time or that the health centers lack the capacity to treat the cases.
Mugabe's government says it has the situation under control, blaming the crisis on Western powers seeking an excuse for military intervention. Mugabe said Wednesday there is no cholera in the country.

Watch Mugabe's denial »
Don't Miss
"I think this just shows how out of touch he is with the reality on the ground in Zimbabwe," McGee said.
He warned Zimbabwe is "rapidly deteriorating into failed-state status" as Mugabe and his cronies hold the country hostage to their "failed economic policies, corruption and human rights abuses."
McGee said that all government hospitals are closed and the government has not been able to collect garbage. With a late rainy season producing little fresh rain, people are being forced to drink water from bore holes or sewers, he said.
"The situation is truly grim," McGee said.

Watch McGee's call for change »
McGee said the U.S. is working with nations of the Southern African Development Community and others to put pressure on Mugabe to step aside.
South Africa has declared a health emergency after treating 664 refugees from Zimbabwe arrived with cholera, a government official said Thursday. Eight of those patients have died, he said.
Phuti Seloba, a spokesman for the Limpopo provincial government, told CNN: "This is a problem that needs human and financial resources, and we simply cannot cope as a province."
"Some of these people walk for three to four days before reaching our hospital," Seloba said.
Water from the Limpopo River, which forms the border between South Africa and Zimbabwe, has tested positive for cholera as well.
By declaring the problem a disaster, the province is hoping to receive money and resources from South Africa's national coffers for treatment, prevention drives and to pay the medical staff that has been deployed to the border.
E-mail to a friend

All About Cholera • Zimbabwe • United Nations