By Kate Tobin
CNN
(CNN) -- A presidential runoff election in Ghana will be held December 28, the nation's electoral commission announced Wednesday.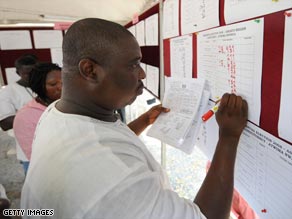 An election official adds to the election results displayed at the Ghanaian International Press Centre.
Voters went to the polls across Ghana on Sunday to choose a successor to President John Kufuor, who is stepping down after two terms.
Authorities estimated voter turnout at nearly 65 percent in a smooth and efficient operation that stands in stark contrast to recent violence-marred and disputed elections in Kenya and Zimbabwe.
Nana Addo Danquah Akufo-Addo of the incumbent New Patriotic Party and John Evans Atta Mills of the National Democratic Congress are the leading candidates, but neither was able to garner more than 50 percent of the vote. The Ghanaian constitution requires a second round of balloting if no candidate wins a clear majority.
Though the outcome of the election is undecided, the results are in on the success and fairness of the voting process, election observers said.

Watch iReporters' reactions to the outcome »
"All of us agreed that these were high quality, very transparent, orderly, peaceful, patient fine elections," said observer John Stremlau with the Carter Center, who is still in Ghana. "My colleagues with more experience than I have think these were probably the best elections they have observed."
Part of a former British colony, Ghana was among the first African countries to gain independence in 1957. It endured a series of coups before military dictator Lt. Jerry Rawlings took power in 1981. A decade later, Rawlings led the country through the transitioned to a stable democracy with multiparty elections.
"It's been able to do quite well, particularly in African terms, in terms of developing its economy and increasingly its political arena to the point that it is somewhat of a model for African countries," said J. Anthony Holmes, head of the Africa Program at the Council of Foreign Relations.
Holmes thinks the people of Ghana have been vigilant this election cycle because they believe their electoral process will be closely compared in the international community to elections in Kenya and Zimbabwe.
"Being contrasted in that way makes them take what they are doing extremely seriously and provides an international dimension to it that makes them very much want to be judged as having done a good job," said Holmes.
E-mail to a friend