(CNN) -- The High Court of Zimbabwe has ordered police to make efforts to search for human rights activist Jestina Mukoko, who was allegedly abducted from her home a week ago, a human rights lawyer said Tuesday.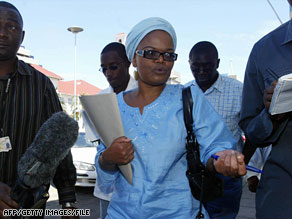 Beatrice Mtetwa, seen outside Zimbabwe's High Court in April, says police have been ordered to use media ads.
Beatrice Mtetwa said High Court Judge Anne-Marie Gowora had ordered police to advertise in the media and to search for Mukoko in all areas that police have jurisdiction over.
"This was after the police said it is not holding her," Mtetwa said. "It was hard to believe given that they have not gone to her home to record how she was abducted."
The Zimbabwe Lawyers for Human Rights made an urgent application to the court after Mukoko, a human rights activist and journalist, was abducted from her home in Norton about 25 miles (40 kilometers) southwest of Harare last week.
She has not been found, and her two workmates at the Zimbabwe Peace Project were abducted from their workplace Monday.
In a related matter, the opposition Movement for Democratic Change said Gandhi Mudzingwa, the former personal assistant to MDC leader Morgan Tsvangirai, was abducted Monday.
"He was abducted by nine gunmen in six vehicles ... and he has not been found," Nelson Chamisa said in a statement.
Don't Miss
Zimbabwe has had no Cabinet since the March presidential election that started the current political impasse.
The once-prosperous nation's political troubles have aggravated its humanitarian and economic crisis, including a cholera outbreak that has killed close to 600 people since August and an inflation rate of 231 million percent and rising -- the world's highest.
A national unity government failed to take off as Tsvangirai's MDC accused President Robert Mugabe of violating their September agreement by keeping all key ministries -- such as home affairs, local government, foreign affairs, finance and defense -- for his own party.
If MDC leaders are not ready to join the national unity government, Mugabe said, he would go ahead and appoint a Cabinet.
Tsvangirai won the most votes in the March election, but not enough to avoid a runoff, according to the government's official count.
He withdrew from the June 27 runoff days before the vote, saying Mugabe's supporters had waged a campaign of violence and intimidation against opposition supporters.
E-mail to a friend

All About Movement for Democratic Change • Morgan Tsvangirai • Robert Mugabe