(CNN) -- The European Union's foreign policy chief has called for increased political pressure to force Zimbabwe's leader Robert Mugabe to step down, as the country's humanitarian crisis worsens.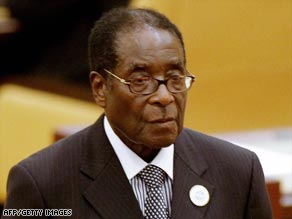 The humanitarian crisis in Zimbabwe has led to calls to remove President Robert Mugabe from power.
Speaking as he arrived for a meeting of EU foreign ministers in Brussels, Javier Solana said Mugabe's departure would allow the people of Zimbabwe to "move their country forward," The Associated Press reported.
However, Solana did not call for sanctions beyond the current measures which include an arms embargo and travel ban on Mugabe and other high officials, AP said.
Meanwhile, the prime minister of Kenya on Sunday called for troops to "dislodge" Mugabe.
Raila Odinga said the international community must "respond to the call of the African people, and must help end the murderous reign of Robert Mugabe in Zimbabwe."
The United Nations has said more than half of Zimbabwe's population is in dire need of food and clean water.
The country is suffering from a cholera outbreak that has killed close to 600 people since August.
"The crisis in Zimbabwe has now reached a point where further lack of action by the African Union and the international community will constitute nothing less than a crime against humanity," said Odinga, a long-time critic of Mugabe.
The African Union "must formulate a resolution to send African Union troops into Zimbabwe," he said. "If no troops are available, then the AU must allow the U.N. to send its forces into Zimbabwe with immediate effect, to take over control of the country and ensure urgent humanitarian assistance to the people dying of cholera and starvation."

Watch more about the cholera crisis in Zimbabwe »
If Zimbabwe's president does not cooperate, Odinga said, international troops should "dislodge Mugabe from power."
Cholera, a water-borne disease, is on the increase in nine of Zimbabwe's 10 provinces, according to the U.N. Office for the Coordination of Humanitarian Affairs (OCHA). It blamed "poor water and sanitation supply, a collapsed health system and limited government capacity to respond to the emergency."
Don't Miss
Many of those afflicted with the disease have fled to neighboring countries to seek medical health -- which risks spreading the outbreak still further.
A group of former leaders known as The Elders expressed "bitter disappointment" in the Mugabe government Sunday, saying it cannot lead Zimbabwe out of its crisis.
The members of the group -- former U.N. Secretary General Kofi Annan, former U.S. President Jimmy Carter and human rights campaigner Graca Machel -- were denied entry to the country last month. They compiled a report based on meetings with Zimbabwean international experts in Johannesburg instead.
"We were expecting a gloomy situation, but the situation is far beyond what we could have imagined," said Machel, who is married to former South African President Nelson Mandela -- also a member of The Elders.
Nearly half Zimbabwe's population will need food aid by January, The Elders' report predicted.
Last week UK Prime Minister Gordon Brown branded the crisis "an international emergency."
E-mail to a friend

-- CNN's David McKenzie contributed to this report.
All About Zimbabwe • Robert Mugabe • Kenya • Cholera