HARARE, Zimbabwe (CNN) -- President Robert Mugabe hinted he may form a Cabinet without the opposition and call for early elections in Zimbabwe to resolve the impasse over a stalled power-sharing deal.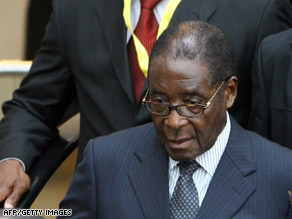 President Mugabe said he did not "have any qualms with taking farms from the white farmers."
"If we call for elections, you must be prepared," Mugabe told members of his ruling ZANU-PF party during an appearance on state television late Thursday.
An opposition spokesman said it would welcome a "genuine election," with international supervision.
The 84-year-old Mugabe, who has led Zimbabwe since 1980, also suggested he would ignore an international tribunal ruling that declared illegal his government's seizure of farms from white Zimbabweans.
Zimbabwe has had no Cabinet since the March presidential election that started the current political impasse. Its political troubles have aggravated its humanitarian and economic crisis, including a cholera outbreak that has killed close to 600 people since August and inflation rate in the once-prosperous nation of 231 million percent and rising -- the world's highest.
A national unity government failed to take off as Morgan Tsvangirai's Movement for Democratic Change (MDC) accused Mugabe of violating their September agreement by keeping all key ministries, such as home affairs, local government, foreign affairs, finance and defense, for his own party.
If MDC leaders are not ready to join the national unity government, Mugabe said he would go ahead and appoint a Cabinet.
"We agreed to give them 13 ministries while sharing the ministry of home affairs, but if the arrangement fails to work in the next one-and-a-half to two years, then we would go for elections," he said.
Tsvangirai won the most votes in the March election, but not enough to avoid a runoff, according to the government's official count. He withdrew from the June 27 runoff days before the vote, saying Mugabe's supporters had waged a campaign of violence and intimidation against opposition supporters.
"The MDC has always been ready for a genuine election -- even yesterday," said MDC Information Director Luke Tamborinyoka. "We have always won."
"But the problem with ZANU-PF is that it can indicate right when turning left," Tamborinyoka added. "Mugabe can talk of an election when he is referring to an onslaught on the opposition as he did in the run-up to the June presidential run."
Tamborinyoka said the MDC wanted "an election under the international supervision, in which people can express their wishes freely. Violence and abductions of opposition members should not be part of the environment of an election."
He said Mugabe's suggestion that he may call for early elections "was not a surprise."
"ZANU-PF has already started preparing, as manifested by the kidnapping of our members in October and of human rights activist Jestina Mukoko on Tuesday," he said.
Amnesty International has demanded to know the whereabouts Mukoko, whom it said was abducted at dawn Wednesday by armed men in plainclothes posing as police.
An inclusive government has been widely seen as the panacea to Zimbabwe's troubles.
The cholera outbreak worsened as Harare failed to import adequate water-treatment chemicals.
The United Nations said more than half of Zimbabwe's population was in dire need of food handouts.
Acute shortages of most essentials, such as fuel, electricity, medicines and food are a clear manifestation of a failed economy.
Mugabe said the recent ruling by the South African Development Community (SADC) tribunal barring his government from further repossessions of white-owned farms was "an exercise in futility."
The tribunal's landmark judgment last week said the seizure of dozens of white-owned farms by Mugabe's government violated international law and must be halted immediately.
Seventy-eight white Zimbabwean farmers asked the SADC court to order the government to stop their evictions under Mugabe's controversial land reform program.
The tribunal ruled that a handful of farmers whose land has already been confiscated should be paid compensation by next June.
Mugabe said he did not "have any qualms with taking farms from the white farmers."
"What would definitely be a problem is our failure to reclaim our country," he said. "We asked the tribunal if they had considered what is in our constitution which clearly states there shall be a resettlement program."
"They think what they say should stand," he said. "So, it's a tribunal that had an exercise in futility."
E-mail to a friend

All About Zimbabwe • Amnesty International