(CNN) -- U.S. Secretary of State Condoleezza Rice said Friday the cholera outbreak that has killed nearly 600 people in Zimbabwe is the latest sign that President Robert Mugabe's rule over the country must end.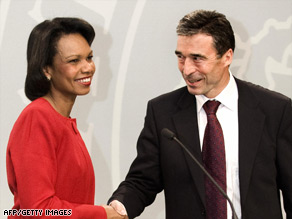 Condoleezza Rice and Danish PM Anders Fogh Rasmussen at a press conference in Copenhagen.
"It's well past time for Robert Mugabe to leave. I think that's now obvious," Rice said during a visit to Copenhagen, Denmark. "The fact is that there was a sham election. There then has been a sham process of power-sharing talks. And now, we are seeing not only the political and economic toll that is being taken on the people of Zimbabwe, but the toll in the humanitarian dimension as this cholera epidemic has broken out."
The Bush administration has long called for Mugabe to leave office. President Bush called the runoff presidential election in June a "sham" and instructed Rice and other U.S. officials to develop additional sanctions against Mugabe's "illegitimate government."
"The United States will always do anything and everything that it can to help innocent people who are suffering," Rice said said at a joint news conference with Danish Prime Minister Anders Fogh Rasmussen. "And we are not going to deny assistance to people in need because of their government. But if this is not evidence to the international community that it's time to stand up for what is right, I don't know what will be. And frankly, the nations of the region have to lead it."
Rice -- who has just about a month left in office before President-elect Barack Obama's administration takes over -- called on all African nations to speak up.
Don't Miss
"The United States and Europe have been united on this... many African states have spoken up in this way about the need for change in Zimbabwe. But many others have been silent. And it is really time for the people of Zimbabwe to have a better future. And this has the potential, we now see, to be not just a problem for Zimbabwe, but for all of southern Africa. And so I sincerely hope that this is going to spur the states of the region to stronger action."
Asked whether the United States and Europe should try to force out Mugabe, Rice responded, "Well, without help in the region, it's very difficult to have the tools that will bring about a just resolution in Zimbabwe. The United States and Europe can't do everything alone. Other states are responsible too. And the southern African states should be the most responsible at this point, because they have the most at risk. And the people of Zimbabwe have suffered long enough."
Mugabe has come under heavy international criticism. The June runoff vote was widely condemned after reports of voters being pressured, or even threatened, to vote for Mugabe's party -- allegations Mugabe denied.
For months there have been some efforts to build a power-sharing government in the troubled nation, but to little avail.
On Thursday, Mugabe hinted he may form a Cabinet without the opposition and call for early elections. The opposition responded that it would welcome a "genuine election," with international supervision.
The 84-year-old Mugabe, who has led Zimbabwe since 1980, also suggested he would ignore an international tribunal ruling that declared illegal his government's seizure of farms from white Zimbabweans.
E-mail to a friend

All About Cholera • Zimbabwe • United Nations