HARARE, Zimbabwe (CNN) -- Amnesty International demanded Wednesday to know the whereabouts of human rights activist Jestina Mukoko, who it says was abducted at dawn by armed men in civilian clothes posing as police.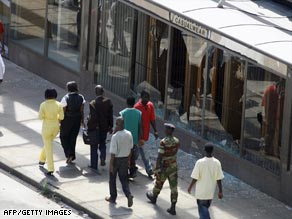 People walk by shops that were looted by Zimbabwean soldiers who couldn't get money from banks Tuesday.
Mukoko, director of the Zimbabwe Peace Project, was taken from her home south of Zimbabwe's capital, Harare, Amnesty spokeswoman Suzanne Trimel said in a written statement. ZPP monitors and documents human rights abuses in the troubled country.
According to a witness, at least 12 men stormed Mukoko's home in Norton about 5 a.m., taking her by force while she was still in pajamas and barefoot, Trimel said. The men then drove off in two cars, one of which did not have registration plates.
CNN is trying to get comments from police or other officials.
Last Saturday, about six men, who Amnesty believes to connected to the group that kidnapped Mukoko Wednesday, tried to enter her house when she was away, said Trimel, quoting the same witnesses who described the alleged abduction.
Amnesty International said three of Mukoko's colleagues at a clinic treating cholera victims were arrested in late November.
"Mukoko's abduction or arrest was part of an established pattern of harassment and intimidation of human rights defenders by Zimbabwean authorities in an attempt to discourage them from documenting and publicizing the violations that are taking place," said Erwin van der Borght, Amnesty's program director in Africa.
The human rights organization fears authorities may have launched a new campaign to silence human rights activists in the wake of protests by the Zimbabwe Congress of Trade Unions.
"We hold the Zimbabwean authorities responsible for anything that may happen to Jestina Mukoko," said van der Borght. "She should be released immediately."
Zimbabwe is beset with political, economic and health problems.

Watch why the Elders were not allowed into Zimbabwe »
Earlier Wednesday, police in the capital chased away residents who were in long lines in front of banks and arrested several trade union leaders ahead of protests over limits on cash withdrawals from the inflation-ravaged African nation's central bank.
Trimel said the secretary-general of the Progressive Teachers Union of Zimbabwe, Raymond Majongwe, and a journalist working for a South African broadcaster were among the trade unionists arrested in Harare.
A federation of trade unions issued a statement saying 69 people were arrested across the country during Wednesday's demonstrations against the bank restrictions.
Amnesty "fears that authorities may have launched a new campaign to silence human rights activists in the wake of protests by the Zimbabwe Congress of Trade Unions," Trimel said.
Queuing up to withdraw money has become a daily sight in the country, which is facing an acute shortage of cash. Zimbabweans complain that the money banks give out is not enough to purchase basic necessities.
On Tuesday, Zimbabwe's former defense minister appeared on television, flanked by two top army officials, to warn the union groups against holding the protests.
The former minister, Sydney Sekeramayi, accused the unions of colluding with soldiers who went on rampages in Harare twice in recent days.
The angry, unpaid soldiers clashed with foreign currency exchangers and some civilians Monday. Last Friday, soldiers who had failed to get cash from their banks also looted some shops they suspected to be illegally dealing in foreign currency. iReport.com: Share questions for Christiane Amanpour
The Reserve Bank of Zimbabwe allows a maximum daily withdrawal of 500,000 Zimbabwean dollars -- the equivalent of about 25 cents in the United States -- as a way to ease the country's acute cash problems. The amount is not even enough to pay for a loaf of bread, which costs about 2 million Zimbabwean dollars ($1 U.S.).
The cash rationing has added to the chaos in a country that is engulfed in an economic collapse and where the official inflation rate of 231 million percent is the world's highest.
Meanwhile, health workers are grappling with a cholera outbreak sweeping through Zimbabwe that had claimed at least 565 lives by Tuesday, the U.N. Humanitarian Affairs Office said.
Medical professionals blame the resurgence of the water-borne disease on the lack of safe water in many parts of the country.
E-mail to a friend

All About Zimbabwe • Cholera • Amnesty International