(CNN) -- Pirates have released a Yemeni cargo ship without receiving a ransom after negotiations with local elders, a Somali official said Wednesday.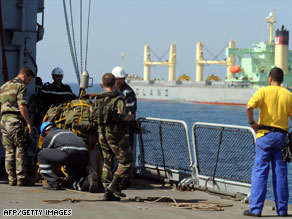 French soldiers, who have joined British, Indian, Russian and American patrols off Somalia, during an exercise.
Aliabdi Aware, a minister in the semi-autonomous northern region of Puntland, said the ship was awaiting refueling in Eyl, a fishing village in the region. The crew and the ship were safe, he said.
It was not immediately known how much ransom the pirates had demanded. Aware said hijackers let the ship go after elders intervened and negotiated for the crew members' release.
The cargo ship was one of many seized in recent weeks off Somalia's coast, which has seen a sharp spike in pirate attacks. So far this year pirates have attacked almost 100 vessels and successfully hijacked nearly 40 in the area, according to the International Maritime Bureau's Piracy Reporting Center.
Don't Miss
A multinational fleet, including vessels from the U.S., NATO member states, Russia and India, has been patrolling the Indian Ocean waters seas near the Gulf of Aden, which connects the Red Sea and the Arabian Sea. Around 20,000 oil tankers, freighters and merchant vessels pass along the crucial shipping route each year.
In an interview provided to CNN last week, a pirate leader claimed attacks on shipping would continue as long as life in Somalia remained desperate.
"The pirates are living between life and death," said the pirate leader, identified by only one name, Boyah. "Who can stop them? Americans and British all put together cannot do anything."
E-mail to a friend